Earlier this month, Youtube , cut the number of subscribers required in order to access Community Posts in half.
Creators with 500 subscribers can now get access to maximum interaction with their subscribers on YouTube by using the Community Tab.
What are Community Posts?
Community Posts on YouTube allow you to interact with your subscribers in a Twitter-esque kind of way. You can post your next video upload announcements, polls, GIFS, and ask questions to your subscribers.
Community Posts was introduced by YouTube to replace the Discussions tab which allowed creators to post only texts and links. With Community Posts, YouTube is trying to make the engagement between creators and subscribers more efficient.
By offering more features in the Community Tab, Youtube announced that it will remove the Discussion Tab from all channels starting October 12.
How is the Community Tab different?
The Community Tab has three main features that boost maximum engagement for
creators.
Check the metrics on your posts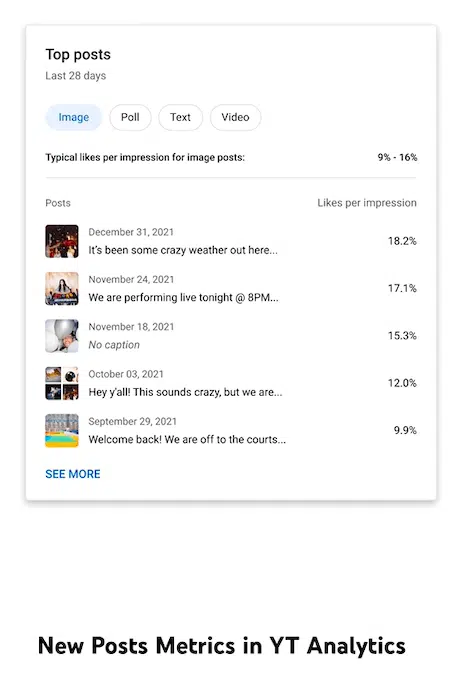 Creators can keep a track of how their subscribers are engaging and reacting to their posts under the Community Tab.
In YouTube Analytics, creators can check their posts' impressions and engagement rate which can show insights like the number of times a Community Post was seen and how it has been perceived.
2. Post up to five images in a post
Moreover, creators can post multiple images to share which opens innovative opportunities for them to interact with their subscribers.
3. Schedule to post at a specific time
Hence with this new feature, creators can schedule a post at a specific time which allows them to establish a timely and organized posting. In addition, YouTubers can time their Community Posts around their video uploads, which is great for getting subscribers' feedback and increasing engagement in an organized way.
In conclusion, YouTube is not only trying to expand more opportunities for creators by unlocking this feature for users but also YouTubers with more than 500 subscribers. After October 12, YouTube says you can expect to use the Community Tab after a week of hitting 500 subscribers.
Featured Image from YouTube press release.