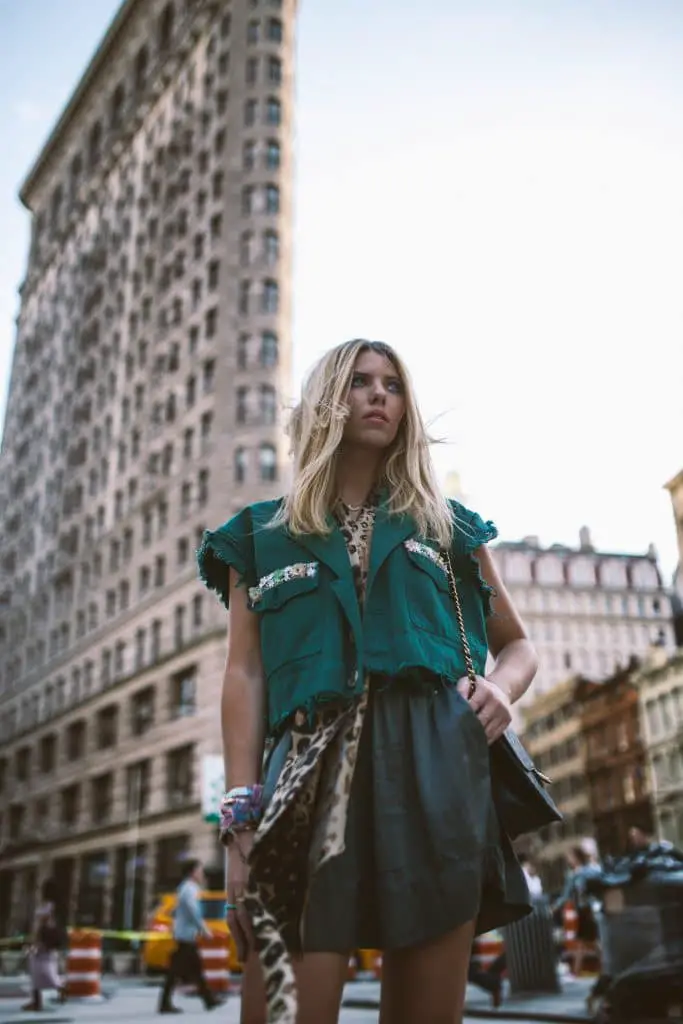 New York has been a beacon for the fashion world for decades, but the hierarchy of fashion in the big apple is quickly changing. What was once a designer-dominated fashion market has shifted to thrifting and street vendors all thanks to TikTok. The status quo of NYC fashion is shifting and it is largely because of TikTok.
Fashion influencers are paving the way in the fashion world, setting trends with just a quick 60-second video. It seems as if any viral video of a woman in New York instantly makes her a fashion icon, people are flocking to average young women's pages and admiring their fashion sense. Get ready with me videos are gaining popularity, everyone wants to know what the process is for picking out an outfit.
These TikTokers aren't just going viral, they're influencing the purchases of their followers. A recent viral post from @victoriaparisf epitomizes the power TikTok influencers have over their followers. She posted a video of a skirt stand in Manhattan where a guy was selling $12 skirts and claimed she always bought a few from him every year when Spring rolled out. Over the course of the next 48 hours, young women flocked to the corner of Houston and Thompson. One short video influenced the fashion decisions of hundreds of girls.
Recently, Victoria returned to the stand. The vendor was extremely grateful for the exposure and was excited to announce the skirts have been restocked. Her impact was clear and she started a new fashion trend.
From High-End to Accessible Fashion
The shift in New York fashion influencers has also come with a shift in price tags too, these new fashion moguls are much more wallet-friendly. Instead of donning high-end brands like Yves Saint Laurent and Fendi, they're wearing clothes they purchased from Amazon, PrettyLittleThing, Forever 21, and FashionNova.
Halley Kate, a fashion student in New York, is most famous for her viral Amazon fashion TikToks, where she shows off her greatest fashion staples and unique pieces she finds on the site. The appeal: affordability. Amazon offers cheap prices and free 2-day shipping on all Amazon Prime products. If you're in need of a last-minute outfit, Amazon has got you covered. TikTok fashion influencers, such as Halley, also have you covered. They're ready to give you recommendations for everything from dresses to workout sets.
Quality is no longer important in today's fashion world. It's about appearances and not labels. Why save up for a designer piece of clothing when you can get a dupe for cheaper? By the time you save your money up odds are the trend will long be over. The emphasis on fast fashion is a shift away from high-end brands, changing the status quo of NYC fashion.
Thrifting
It out with the old and in with the used. Thrifting has taken the city and fashion world by storm. Influencers all across TikTok have taken to secondhand shops to find clothes. The cheap prices are what is bringing them in, but it's not always just a deal they are looking for.
Many TikTokers are selling style bundles: clothes they are thrifting and selling at a higher price. Essentially, these TikTokers are going into secondhand stores such as Goodwill and Savers and buying pieces for cheap. They then will either list them on their Depop or add them to a personalized style bundle and sell them. What was once a $4 pair of jeans suddenly has turned it a $50 profit. Fashion is a business after all.
Thrifting has been around for decades, but this newfound business within it has become controversial. Criticism has followed these influencers, with people claiming that this is taking away from the disadvantaged. Those who need to shop secondhand are getting picked over racks of clothing while these young women are profiting off of their purchases. Styles that are in fashion are no longer an option for those who can't afford to buy them new.
Whether or not upselling is morally correct, thrifting is here and it looks like it is going to stay.
Fashion and Influencers: A Match Made in Heaven
Furthermore, just like trends, influencers often have a short shelf-life. The ever-changing influencing world perfectly complements the constantly changing fashion industry. When one style goes out a new one comes in, and with that new influencers.
The ebb and flow of the fashion industry are reflected in the natural course TikTok virality has. Posts blow up overnight. However, they lose their popularity just as quickly as they gain it. The same can be said for fashion, as soon as something goes into style it quickly loses popularity. The definition of stylish is constantly changing with the addition and elimination of trends.
Trends
Although trends quickly come into and go out of style, they also tend to resurface. The resurfacing and reimagining of trends has not gone unnoticed on TikTok. Infact, many influencers are taking advantage of the endless cycle that trends are in.
Currently, there is a resurfacing of 1990s and 2000s fashion trends. What was once deemed tacky is now back in style. Cute crop tops, colorful jeans, low-rise pants and skirts are all back in style. Even Juicy Couture tracksuits, something I begged for 10 years ago, have resurfaced as trendy. What was once outdated has quickly returned to relevancy.
New York has always been a city for creative expression, so it is of no surprise that an app designed for creators has made its mark on the city. Fashion is an impressionable industry, it is all about influencers and moguls, which is why TikTok has been able to infiltrate it with ease. Although some of the influencers have experience in the fashion world, many do not.
Fashion is a malleable form of art, and influencers are changing it to make it more accessible to the public. New York fashion was once an industry of exclusivity and jaw-dropping price tags. It was thought of as elite and the epitome of couture. TikTok has changed that. It has made everyday, average New Yorkers fashion influencers. This has in turn created a new standard for New York fashion, a lower one. Style has become increasingly more casual, price tags have been decreased and overall there is more accessibility.
In general, TikTok has redefined New York fashion, taken it from an inaccessible form of art to every day and every person's medium. The status quo of NYC fashion has changed and New Yorkers are just going to have to deal with it.