Ever take a bite of your boot?
Nikolaj Beyer is a Bornholm photographer. He was first introduced to photography after riding BMX bikes with a friend who had a DSLR camera that they would mess around with. Beyer described this as a pivotal moment leading into his photography career. "I saw these pictures and the way they just held me in midair and I knew I had to get myself a camera," said Beyer. Who would have thought he would go from BMX to boots?
He went on to study photography at Medieskolerne in Viborg. After he graduated, he moved back home with his father, who was diagnosed with terminal cancer a year prior. Providing help in any way he could, Beyer cleaned, cooked, and kept the house tidy for his dad. Beyond that, Beyer simultaneously worked on his photography business and growing his customer base.
The Start of the Series
The series began in 2017 when Beyer was one day scrolling through Instagram. Although Beyer was posting his work on his business page, none of it ever drew much attention. Because of that, he tried to think of new ideas and subjects he could shoot.
At the time Beyer had an interest in sneakers, so he thought to shoot his collection as a still life. And though he had no interest in still life during school, he said he began to "[fall] in love with the possibilities when your subject is still," after shooting his sneakers.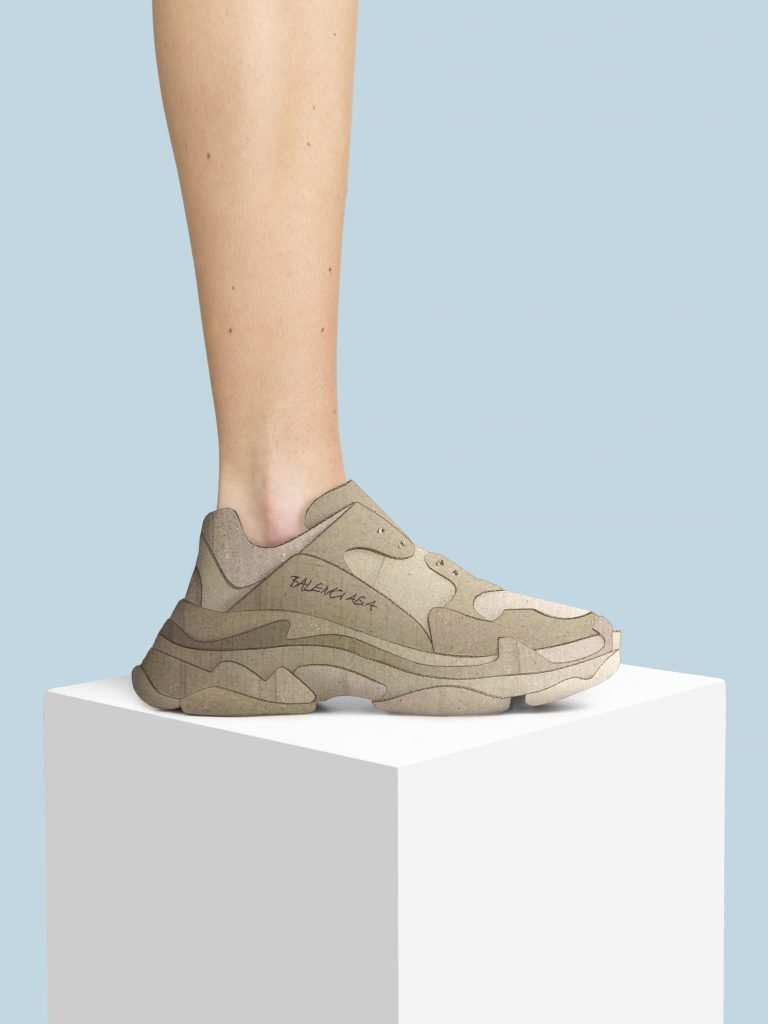 Shooting the still life sneakers ultimately furthered Beyer's exploration shooting shoes. He wanted to continue making what some might consider stagnant, dull images, less boring.
Still scrolling through his feed, he came across an image of a bed made of ham. Immediately he thought, "well that could be fun to do with a shoe!"
(left image features a sneaker made from cardboard)
After experimenting with different materials and shoe styles, heels triumphed sneakers, giving way to his first-ever creation of the series: The Cabbage Boot.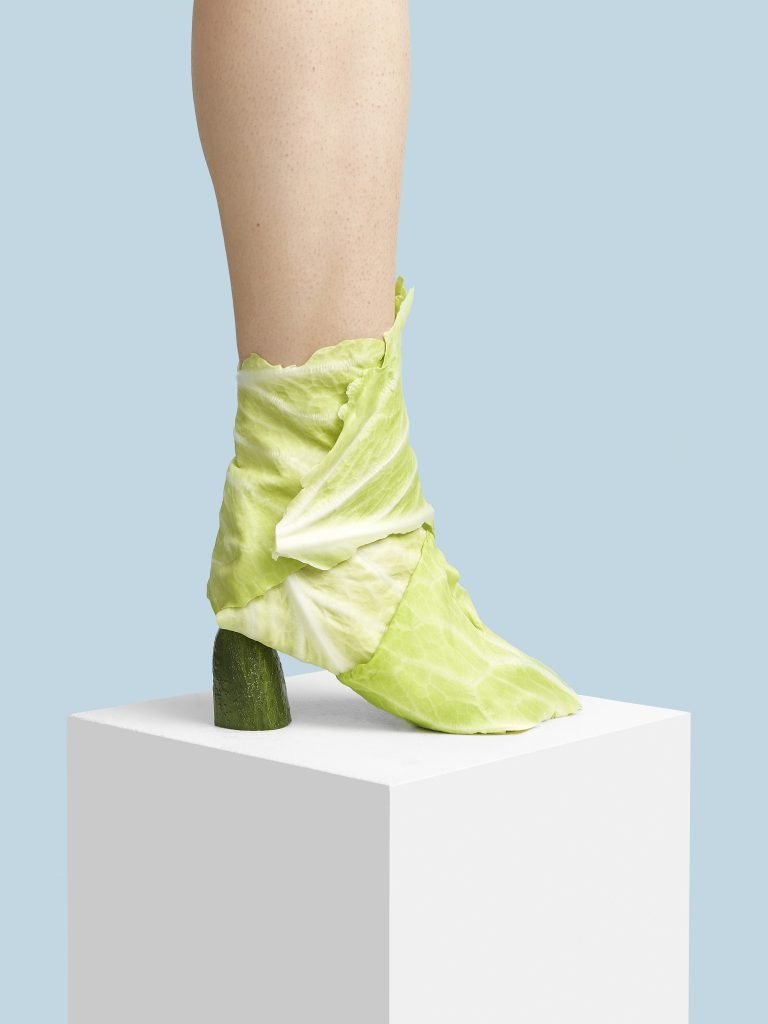 Salad Foot
First, "I asked my girlfriend if I could cover her foot in salad, she looked at me weird for some time but after I had done some explaining she agreed to let me try it," said Beyer. When she agreed to do it, the two went off to their local market and bought the ingredients. Deciding between the produce and meat aisle, the veggies won Beyer over. It felt slightly "wrong to buy a pound of minced meat to put on a foot," said Beyer. Finally, they headed to Beyer's studio where he dressed his girlfriend's foot in cabbage…minus the actual dressing.
Although Beyer was ecstatic with the results, he couldn't help but notice the waste of cabbage and vegetables that remained after the shoot. As a result, he asked his local market if he could take their left-over food waste once the market disposed of what they could no longer sell…yes, in lieu that's a very nice way to state the request to dumpster dive. But hey, it was for the sake of artistic ambition!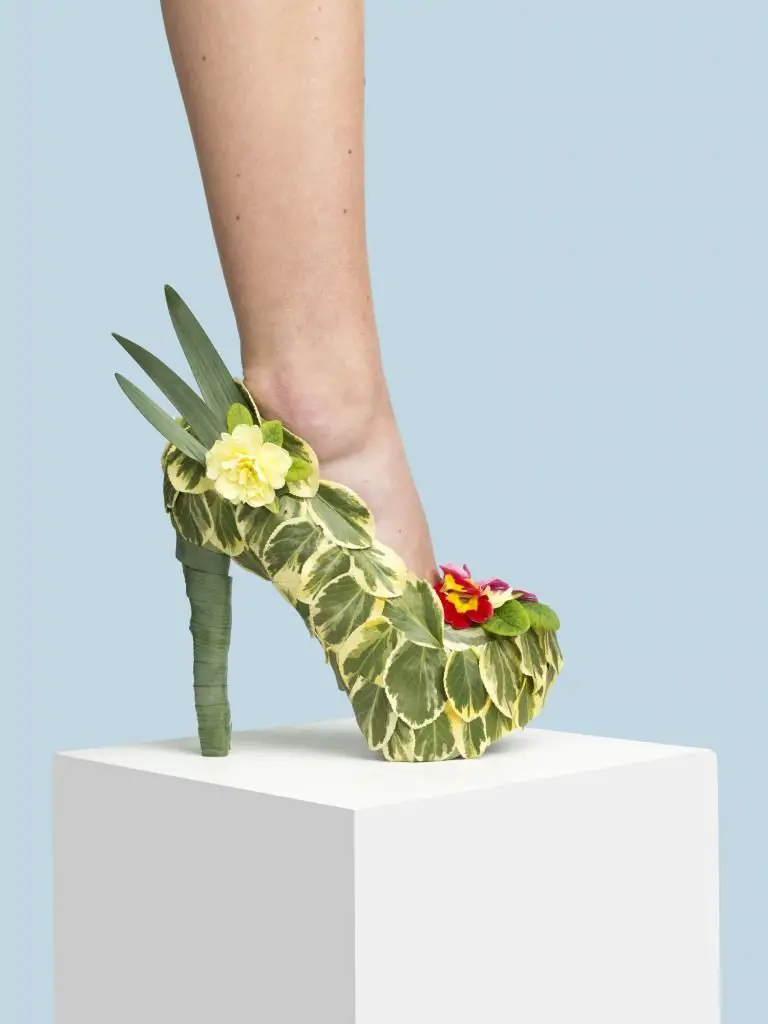 From Waste to Wear
"It became kind of a hunt," exclaimed Beyer after sharing that the store agreed to let him and his girlfriend quite literally scrounge for materials. And though Beyer had spent his Saturday mornings contemplating potential food waste products to use next, it ultimately came down to what treasures they could find in the dumpster. As a result, the original vision could change entirely after a dive.
In the wake of finding so much material that was considered "waste" to most, suddenly, the project pivoted from the idea of creating "crazy shoes" to being "a fun non-preaching way to highlight the waste," shared Beyer. The project had begun to attract responses; some even undermined Beyer for using "perfectly fine food" without even caring to research that all of his materials had already been thrown out.
He even went beyond food to other material waste such as plastic wrap, red bull cans, and toilet paper.
Deciding the Style
After each dive, Beyer had to choose whether he wanted to create a boot, pump, or sandal. Taking his material findings back to his studio, he would first sketch up a draft. Next Beyer would move onto the production stage of gluing and taping. From there he would shoot each shoe in his small, windowless studio that proved more than capable for the job.
Beyer would then upload his images into Photoshop, cleaning the pedestal base and altering the background with any imperfections. Beyer adored that his creation truly "was a shoe for a short moment in time" not just an image edited in Photoshop.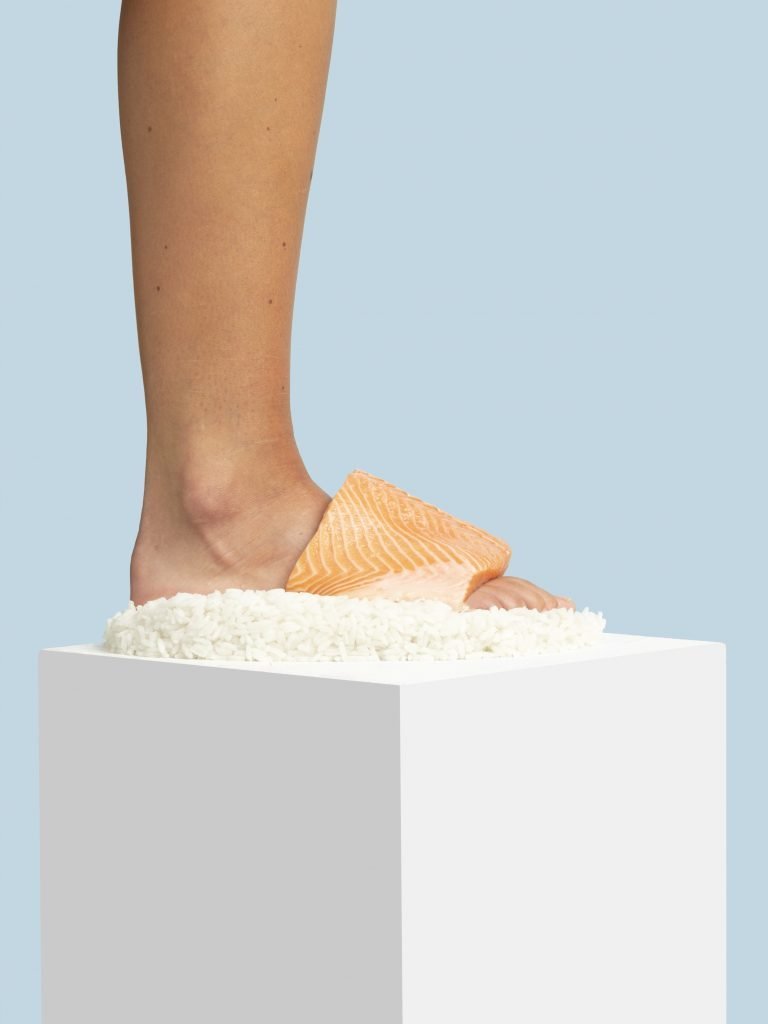 Beautiful Waste
The series went from promoting his business to being too much fun to quit. He continued to shoot his entire series atop a pedestal because he liked how the images appeared "sculpture-like." The project was sending an important message all the while portraying beauty through waste that can be otherwise be seen as hideous.
Depending on the idea, "some shoes took about five minutes from dumpster dive to finished image," while others took multiple tries and weeks of preparation. Over the years, Beyer shared that his favorite materials were meat and greens due to meats' malleability and greens' natural, fresh appearance. Beyer even shared a funny story stating how he once had "a minced meat stiletto in [his] fridge for three days because [they] couldn't find the time to shoot it."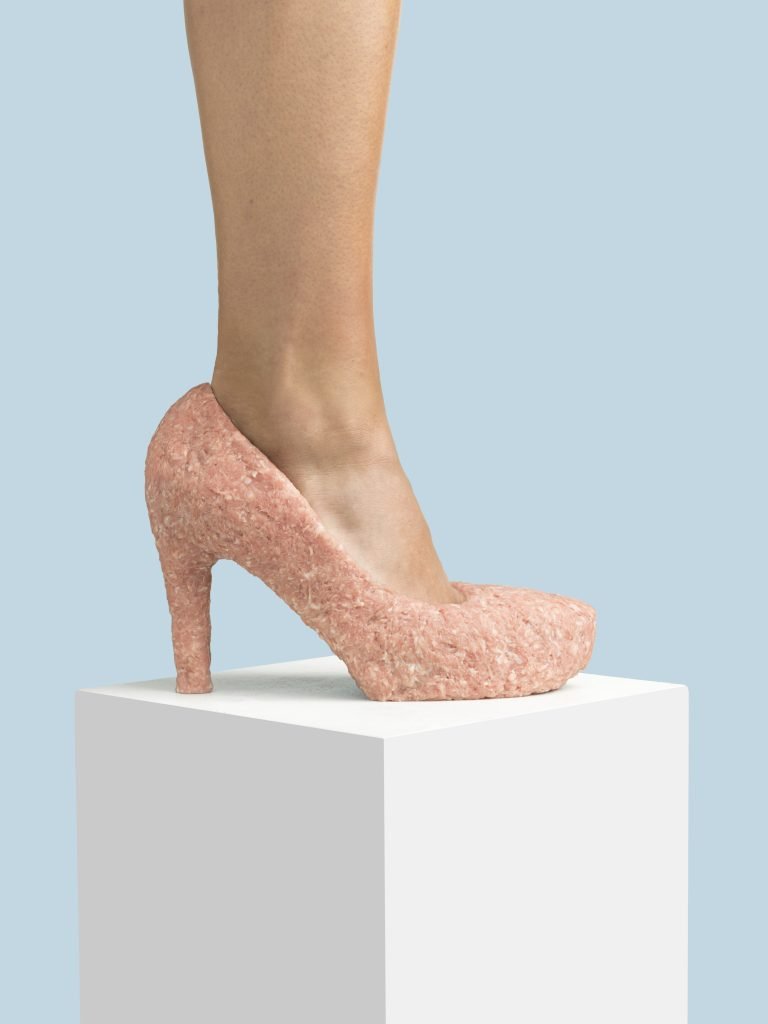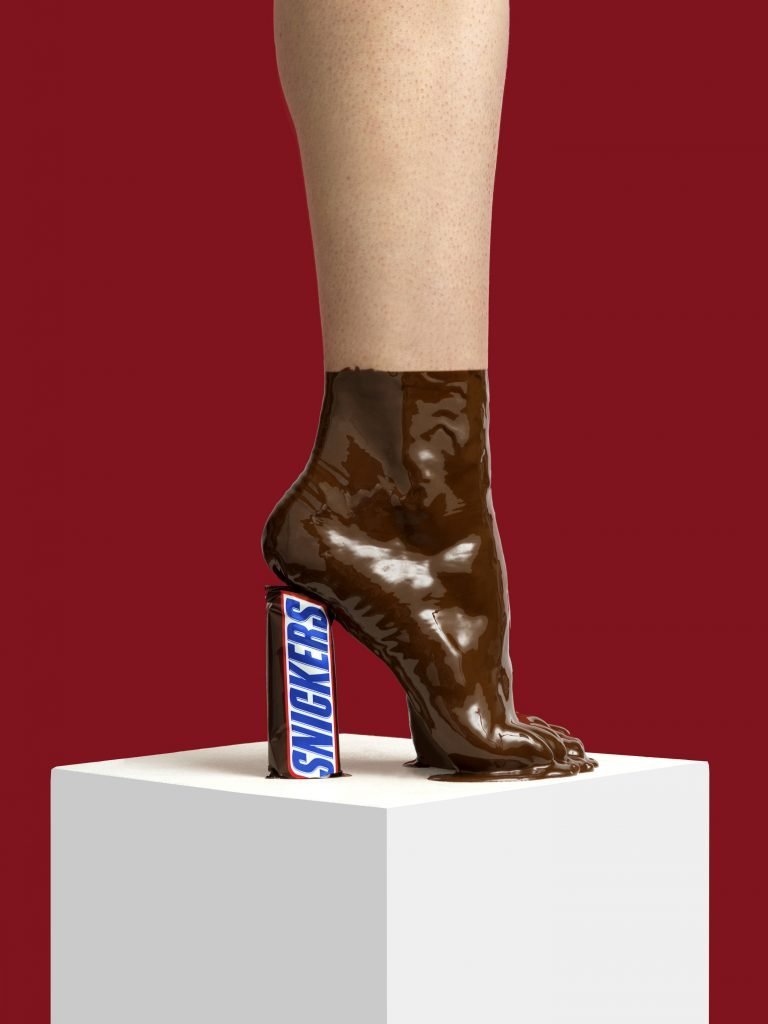 The Sexiest Snickers
Unlike meat and greens, not all materials were as easy to use. The Chocolate Stiletto proved to be the messiest.
One day when Beyer came across eight pounds of chocolate, he immediately went home to grab a portable stove to melt the pounds of delicious confectionary. Soon after, the sugary waste resulted in one of the most iconic shoes of the series: The Chocolate Stiletto. Afterwards, he continually wanted to work more with candy but "it just won't stick the way I want it to," expressed Beyer.
Creative Captioning
Overall, Beyer hopes the series "spotlights the enormous waste happening every day." His genial personality and humor comes across not only in his work but in his Instagram captions as well. "I know most people don't like being told what to do so I hope the series can make people laugh but also make them think."
Playfully, he makes light of the absurdity of food on foot. For example he captioned one of his posts: "have you ever wondered how it feels to slip into a pair of meat slip-ons? No?" and even cleverly titled one of his shoes as "meat loafers."
Stepping in the Right Direction
Nature surrounding his small island of Bornholm not only fuels his creativity, but notable fashion companies spark his inspiration, from both high and low-end brands. Specifically, the Dior fall/winter 2015 patent boots inspired his Raw Oil Boot.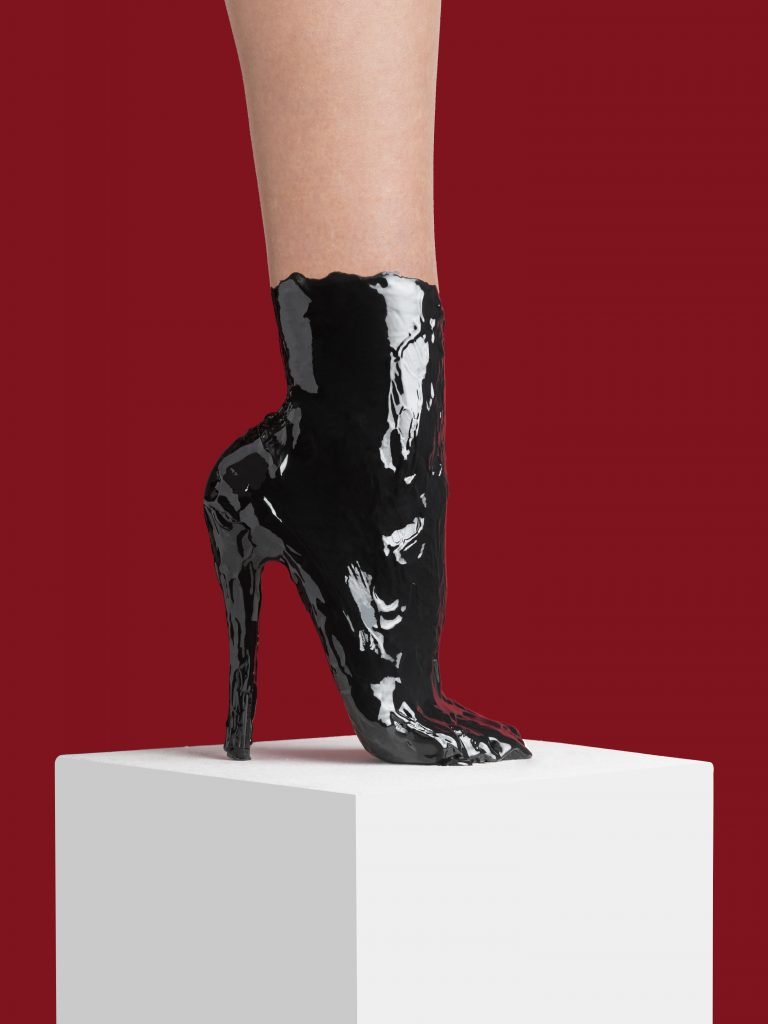 The series' success propelled Beyer to work with global brands and win numerous awards from cities in Tokyo, London, Paris, Los Angeles, New York, and Budapest.
At the start of the series—three years ago—Beyer shot a new shoe every week. Despite the hardships, the attention to his series never stalled. "Hopefully people will keep on discovering the series and hopefully some get inspired to rethink their waste behavior, make something similar, start their journey into photography or even the arts." He detailed he would love to be on someone's mood board, inspiring their creative path.
It's no doubt Beyer has achieved such a goal. His revolutionary work is destined to inspire viewers as his series reminds onlookers that perspective is limitless and beauty is everywhere…even on a foot inches deep in minced meat.
See more about the series here.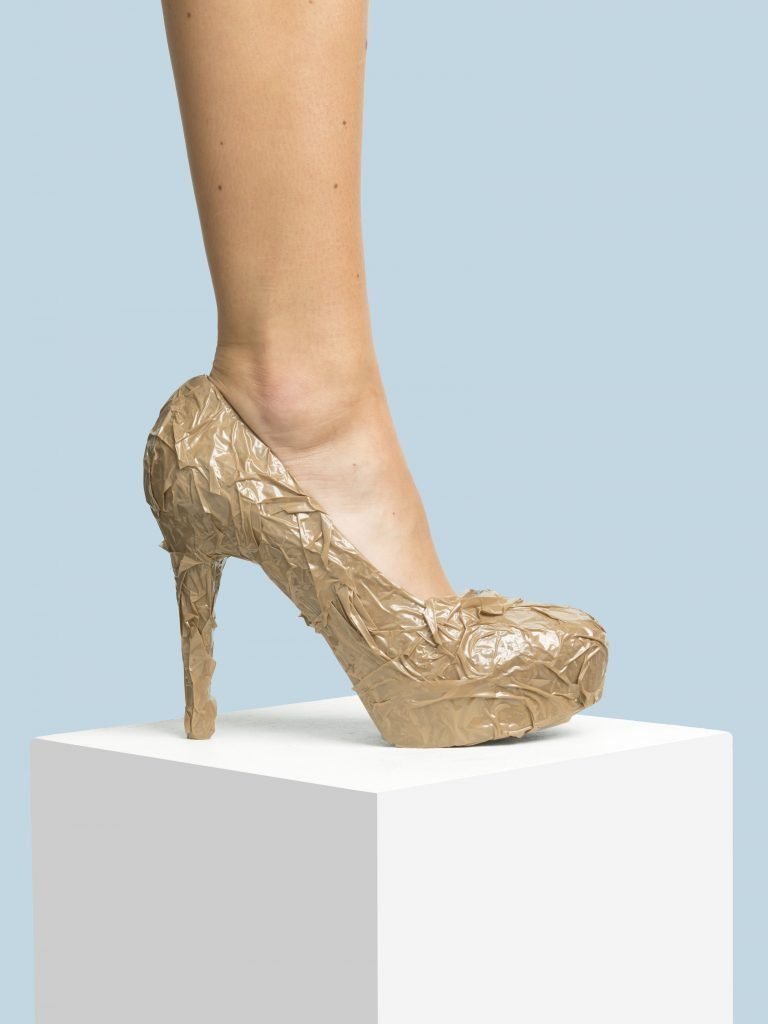 Featured image source courtesy of Nikolaj Beyer
Suggested Article to Read Next: These Polluted Popsicle's Proves Water Pollution is a Global Concern