Cancellations have been a common occurrence this year and one artist in particular is using that to her advantage.
Lydia Leith studied Art & Design at Edinburgh College of Art. At school, she learned techniques of traditional printmaking including letterpress, screen printing, and lino cutting and etching.
She enjoys working with digital printings, ceramics, textiles, and jelly molds, but she found herself favoring one medium specifically. "I particularly loved screen printing, it gives a lovely quality finish on both fabric and papers. Overlapping colors to build up layers and printing the same image multiple times all appealed to me," said Leith. Upon that discovery, Leith has been selling screen-printed designs ever since; her most recent project being her nonevent posters!
An Unusual Year of Non-Events
Leith is used to a full schedule of designing event posters each year but as 2020 nears an end, there weren't really events to create posters for. However, the lack of social events due to the pandemic didn't stop her from still wanting to design posters regardless of events happening or not.
"I decided to design some "non-event posters". With so many events canceled or postponed this year, it made sense to me, to create a piece of work about it," shared Leith. She never stopped even though this year cancellations were as common as Cuomo memes.
To Leith, her "non-event" posters "[sum] up the feeling that a great many have gone through during this year and this unusual moment in time…every time I spoke to a friend they had a plan that was postponed or canceled. Every time you turned on the TV, something was not happening anymore." It is the first time in the lives of many that the entire world is experiencing the same conflict simultaneously.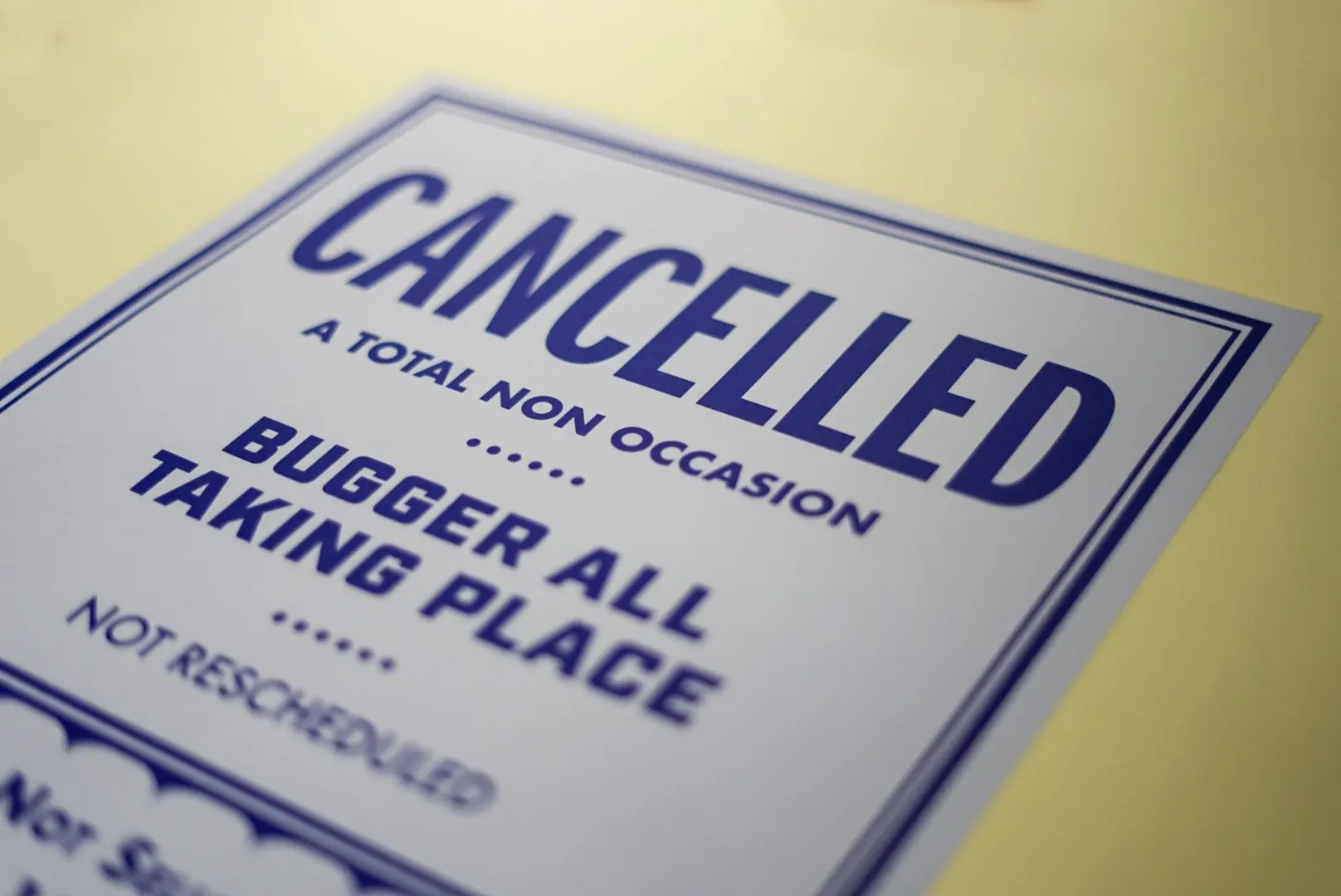 Everyone is going through their own struggles from the common fight against COVID-19. These posters were Leith's way of relating to people. "With everyone stuck at home, I think it has brought an online community closer together, followers and customers are so supportive and encouraging and make it all worthwhile," said Leith explaining how the pandemic impacted her.
Non Event Poster Process
She found a sense of community and was able to turn the darkness of the current world into inspiration to further her artistic projects. "The pandemic gave me momentum and motivation and a sense of urgency. Life is short so do more of what you love doing."
Her "non-event" 30x46cm, screen-printed posters. read "Postponed a noncelebration…Nothing, not a sausage… canceled a total nonoccasion…no venue…no tickets, not soon. 30x46cm.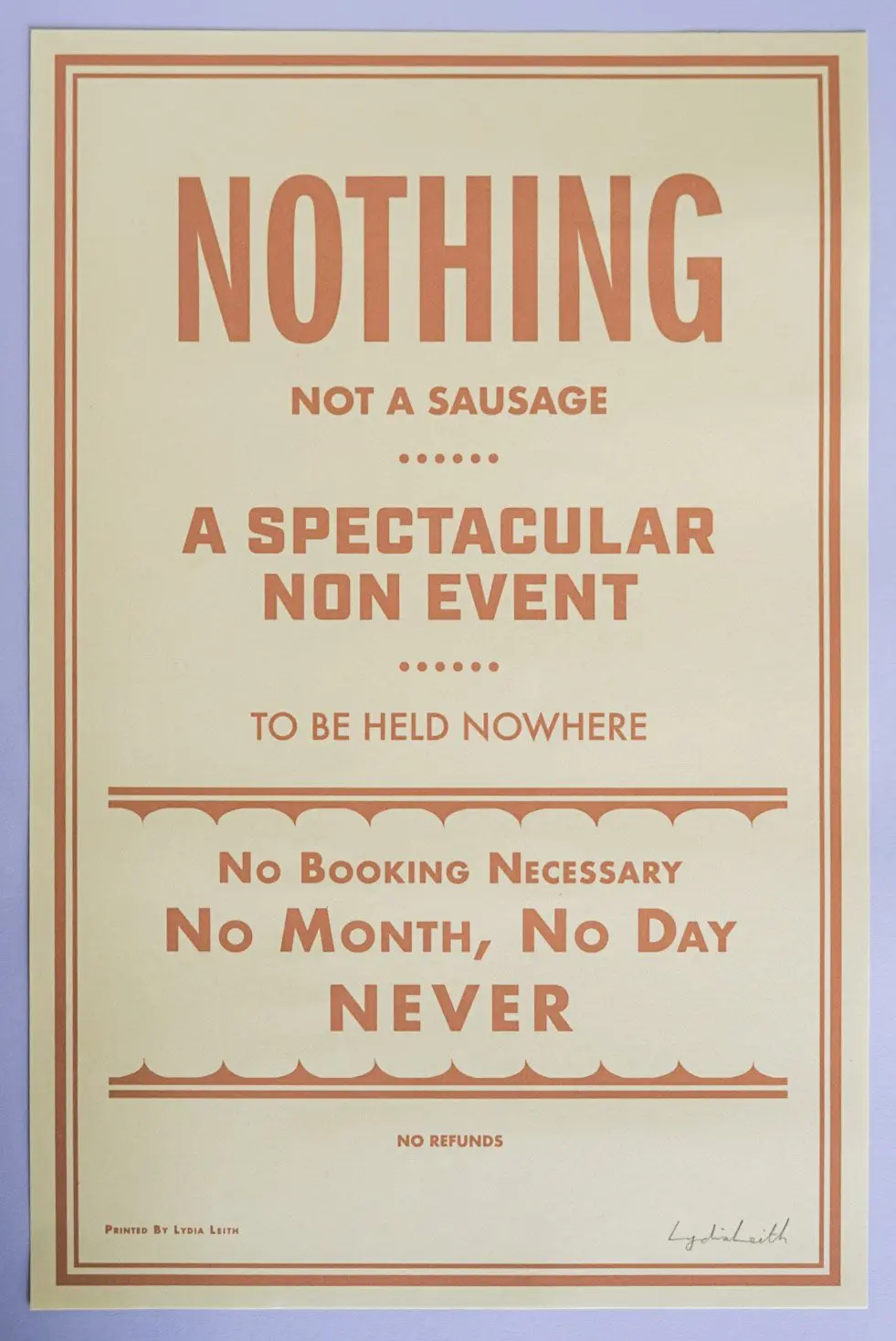 She created one especially for the holidays reading "Christmas is canceled. There is no pantomime or office party. No carol singing or boozing down the pub and there is nothing good on TV either."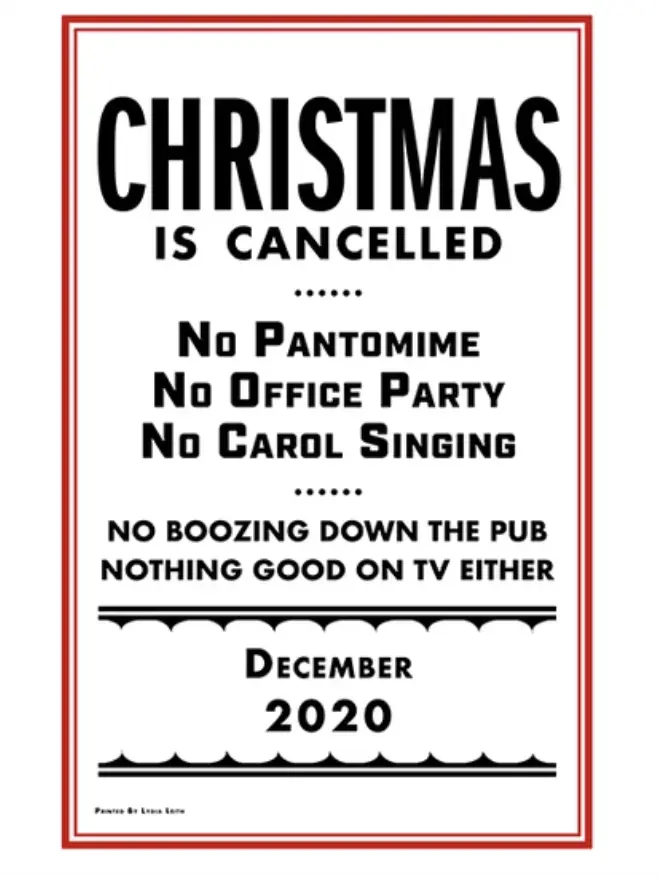 Asked about the intended reactions towards her non-event posters, she shared this. "They are hopefully going to make people smile but also could be something people keep to remind us of this strange time". "We always look back and remember big events in history but we will look back at this year as the year the world stopped."
From an idea to a tangible product, the posters took her about two weeks total; A time mostly spent on typefaces, spacing, paper stocks, and colors. She used Adobe Photoshop and her printer at home for test mock-ups. Eight rough drafts existed before she was satisfied with the final ones. These became the screen-printed designs on colored papers now available on her online shop.
Sick Bags
In addition to the non-event posters, her online shop sells "Sick bags"(screen printed airline sickness bags) that "have a cult following…everyone is so fed up and "sick" of Covid 19, the restrictions, the anxiety, and the so-called 'new normal', so I think this should appeal to a wider audience," said Leith. A phrase like "It's gonna be a bumpy ride" in regards to 2020 is beyond perfect.
When she's not making nonevent posters or sick bags, Leith enjoys product design and illustrating. She wants to develop her product range and feels "very excited to keep going with [her] online shop."
In a time of such frustration, cancellations, and lifestyle changes for everyone "if these posters can make people smile that's great," said Leith. "With a vaccine on the way, I think the posters will be an important reminder of this time to our future selves."
Find her on Instagram or at her website.
Suggested Article to Read Next: How New Yorkers Spent Their Halloween in a Pandemic