Though International Women's Day ended on March 8th and Women's History Month ends on March 31st, supporting and celebrating women should be endless. And Spotify agrees. Launching their new EQUAL campaign in April, Spotify intends to support women creators after March.
Spotify notes:
March may be Women's History Month, but spotlighting the voices of women is something we are committed to doing year-round.
What the New Program Entails
On International Women's Day, Spotify announced the launch of EQUAL, an initiative dedicated to maintaining equity for women and celebrating women creators globally. The program will "include partnerships, activations, new content experiences, and on- and off-platform support on local, regional, and international levels" for women. Furthermore, one of EQUAL's main priorities is highlighting and drawing attention to women artists and podcasters. For instance, this can, for instance, be seen in WOMN.
WOMN
WOMN is a music and talk show that has released episodes for International Women's Day. The show consists of inspiring and diverse women creators discussing women-focused topics like advocating for the streaming women.
Partnerships
Additionally, with EQUAL, Spotify will partner with several non-profits like Girls Make Beats and Color of Change. Ultimately, these partnerships' purpose is "to curate specialty playlists that highlight artists who are shaping the future of music.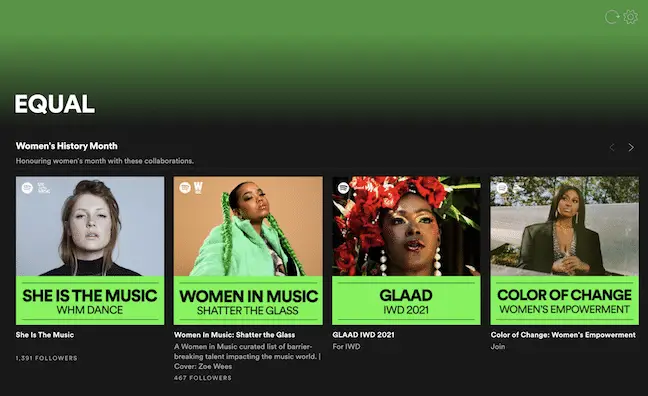 Helping Women Creators Off Spotify
The initiative includes an invite-only EQUAL Board that will consist of 15 organizations around the world. In short, Spotify will offer a grant to each individual organization "to make the audio industry more equitable for women creators.
Flex Your Power to Listen to Women
Lastly, Flex Your Power to Listen to Women aims to amplify women artists' voices and creations. This particularly involves listeners taking control and supporting women artists and podcasters. Spotify will also be assisting by promoting women creators on social media platforms.
Supporting, celebrating, and amplifying women's voices should not just be thought about and encouraged one month out of the year. It's thus vital to provide ongoing support like with Spotify's EQUAL initiative that promotes and assists women creators beyond the month of March.
To learn more about how to amplify women's voices, watch the video below.