Despite being marketed as a smartphone, Sony's newest release seems to be more of a camera that just so happens to be able to make calls. Curated specifically for content creators, the Xperia Pro-I offers a 1-inch Exmor RS CMOS image sensor to ensure high quality photos and videos suitable for all imaging professionals.
Sony is no stranger to developing products with creators in mind, and this one is no different. With the "I" standing for Imaging, the Pro-I emphasizes "combining professional imaging quality with smartphone capabilities [so] you can be creative, wherever, whenever," according to Sony.
Entirely reminiscent of their acclaimed Sony RX100 VII, this $1,799 phone utilizes several features from the Alpha Camera line to create a one-stop shop for videos, photos, editing, and cinematography.
Photography
In addition to its 1-inch Exmor RS CMOS image sensor, the 24mm lens contains a dual aperture of f/2.0 and f/4.0. It is accompanied by 16mm Ultra-Wide (f/2.2) and 50mm Wide (f/2.4) lenses for a vast variety of shots. It supports Real-time Eye AF, ideal for photographing animals and people, and Real-time Tracking for easy capture of moving subjects.
The Pro-I also boasts a 2.4μm pixel pitch for optimal clarity and closer viewing distance. Compared to the iPhone 13 Pro Max's pixel pitch of 1.9μm and the Google Pixel 6 Pro's pixel pitch of 1.25μm. It offers RAW capabilities, Optical Image stabilization, and 20fps burst shooting. It ensures professional grade images with the customization and maintaining creative freedom.
Videography
The Pro-I is able to shoot footage in 4K HDR at 24fps to 120fps. The first phone to do so according to Sony. While features such as Optical SteadyShot, which minimizes shakiness, and Object Tracking allow for high quality videos. With inclusion of audio separation technology and both stereo and monaural microphones guarantee clear audio and speech recording.
The user is able to have cinematographic control with its eight different color settings and adaptiveness to low lighting situations. Its 6.5-inch 21:9 wide OLED display makes it easier for creators to accurately scrutinize their videos in high resolution.
For vloggers, the Pro-I is also compatible with the Vlog Monitor, a compact set featuring a 3.5mm 3-pole microphone jack, a ¼-20 UNC type mounting point, and an external power port.
Additional Features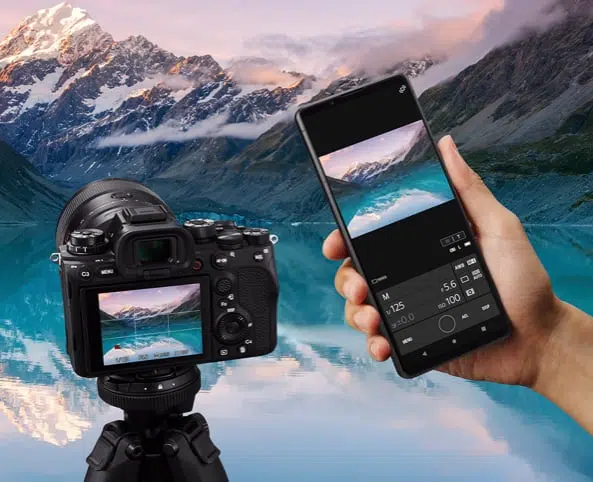 It's USB 3.2 Gen 2 (10Gbps) connection makes for quick data transfers. The Pro-I offers the user the option to simply edit on the device itself. By using the provided Creator mode for precise color reproduction.
With a Qualcomm Snapdragon 888 chip with 5G network and a 4.500mAh battery, the phone supplies both fast and long lasting connectivity and power ideal. For both content creation and consumption. The 10 bit equivalent display makes watching TV and movies a cinematic experience, while its 120Hz Refresh Rate enhances gaming.
Is It Worth It?
For content creators, the Pro-I offers a fantastic array of features for a relatively reasonable price considering its capabilities. However, why wouldn't photographers and videographers choose the cheaper and just as, if not more, operational RX100? Well, some creators featured on Sony's instagram, such as wedding photographer and SonyArtisans Kesha Lambert, have expressed a preference for the Pro-I.
"This camera is feature rich and intuitive to use," Lambert said to Sony. "This camera has something for everybody. Filmmakers, Photographers and vloggers alike will appreciate the build, design and performance of this camera."
Perhaps for the everyday man, the Pro-I might not be the ideal choice for a daily phone. However, influencers, vloggers, and creators would likely benefit from having this device that allows for both easy yet professional content at a moment's notice.
Feature image from Sony