Nothing pairs better with a viral video than an entire container of cranberry juice
I've begun to wonder just what crazy stunt must be done next to go viral in today's media polluted world. I've been met with the simple answer that all it takes is a longboard, some Ocean Spray cranberry juice, and the soothing vocals of Stevie Nicks to do the job…or at least in the case of Doggface.
Upon first sight of the video, I think the world questioned the reason behind its popularity. How a simple middle-aged man; longboarding on an average day in the good ol' potato state of Idaho became a viral success? I believe it all came down to one crucial factor: it made you smile.
The stupid asses who were grinning at our screens, maybe even humming along to the tune; as we rewatched this man—also known as Nathan Apodaca—guzzle down some juice we only last had when our urinary tract failed us, on repeat and we felt happy.
Happy, because in this fucked up 2020 social climate, we all needed a reminder to enjoy the simplicities in life. Doggface's video provided a sense of escapism and relief from the everyday stress of this year. That is why the video received so much attention, and I'm okay with that! Viral content doesn't need to be groundbreaking or life-altering; sometimes it just needs to be a ~ vibe ~ as people have consistently coined the video.
The backstory originates after Apocada's truck broke down on his way to work. Doggface didn't curse the world out, kick a dent into the truck, and give the finger to passing cars, as the average person might react. Rather he calmly grabbed his longboard in the back. With a care-free nature and not forgetting his trusty juice, he skated his heart out to Dream by Fleetwood Mac and continued on his way to work. Who would have thought a broken-down truck would be an amazing turn of events for Doggface.
Doggface is currently raising two teenage daughters and living in an RV with no running water. His daughters, Angelica and Makyla, were the ones who originally encouraged him to get on TikTok, early enough when it was still under Musical.ly. His videos feature dancing, skating, and a nostalgic taste in music for the app's average age demographic. After the video went viral, Doggface received an outpour of donations totaling over $15,000; Money that he put towards a downpayment on a future house.
Beyond the generous donations of his now 4.8 million fans, OceanSpray even surprised Doggface with his very own, new truck; one that hopefully won't break down again stocked fully with his proven drink of choice.
The video now infiltrated so deep into pop culture that recreations and edits are popping up all across the internet. As a result, people have even declared it one of Halloween 2020's best costume ideas. Recreations have practically taken over the internet, and proving potentially hazardous…
Not only has recreations of his video taken over TikTok as a challenge, but celebrities like Dr. Phil, Mick Fleetwood, and Stevie Nicks herself have posted their recreations.
Created then was the meme of the fly on Mike Pence's head during the notorious debate dancing to Dream with cranberry juice in hand.
Also, an Australian streetwear brand was under legal threat for creating T-shirts titled "Dreams Vintage; sporting a very conspicuous picture of Doggface as his lawyers claimed the brand had no rights to the image. However, true Doggface merchandise can be found on his website stocked with hoodies, t-shirts, beanies, and even a full Halloween costume. All items are personally designed by Doggface himself and have rumored to reach over $30,000 in sales just five days after its launch.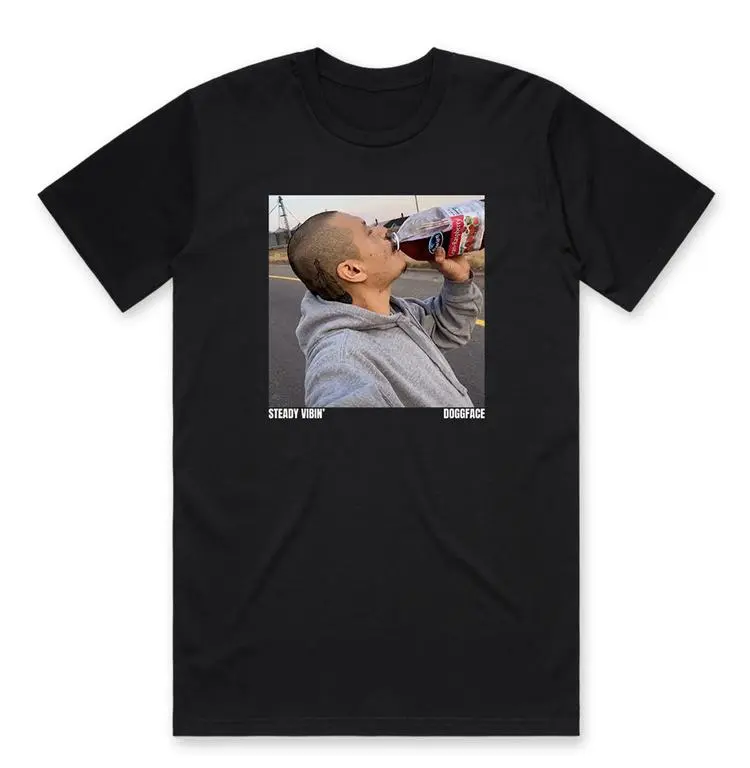 San Francisco went even further in their efforts to keep Doggface's "virality" alive by putting a mural of him gulping down Ocean Spray across the windows of a boarded CVS in the Lower Haight neighborhood. The artist, @keenevisions, referred to Apodaca as a "knight in shining armor" for 2020 brought joy to people through the little things.
Doggface has become a cultural icon whose care-free cruise has skated into internet immortality. He is a symbol of defying society's stereotypes. Especially, stereotypes that state his weed-smoking, harder, tattooed appearance doesn't fit the positivity and light-hearted nature of his video and music choice. So the man enjoys a high like the rest of us and drinks his juice straight out of the container, hell yea he can still rock out to Stevie Nicks.
The viral skating sensation video has gone so viral that even Fleetwood Mac streams have skyrocketed to reach a 584% spike in sales for downloads of Dream, according to BillBoard, and OceanSpray is now relevant beyond a UTI!
It's wholesome content that people want to watch, and that is exactly what Doggface delivered. He recently did his rendition after a Lakers win, skating down the streets of Idaho singing to "We Are The Champions" and slugging back some chardonnay. Who knows, maybe the ghost of Freddie Mercury will give us a TikTok recreation and Doggface will swap cranberries for a lifetime supply of squeezed grapes.
Featured image from Facebook: Nathan Apodaca
Suggested Article to Read Next:  How an Elderly Couple in Their 80s Became The World's Most Stylish Influencers Yet