I bet your grandparents were never this fashionable…
Influencers may fill your feeds encouraging you to buy this, try those, and wear that, but have you ever taken style inspiration from a grandparent? Sure, you go to the elderly for their amassed wisdom, but never to raid their closet. Well, this power couple may just change your mind.
Pre/Post Pandemic
Meet Wan-Ji and Sho-Er, the world's most beloved, and might I add, stylish couple Instagram has ever seen. The pair have been married for over 60 years and operate a laundromat in Taiwan called Wansho.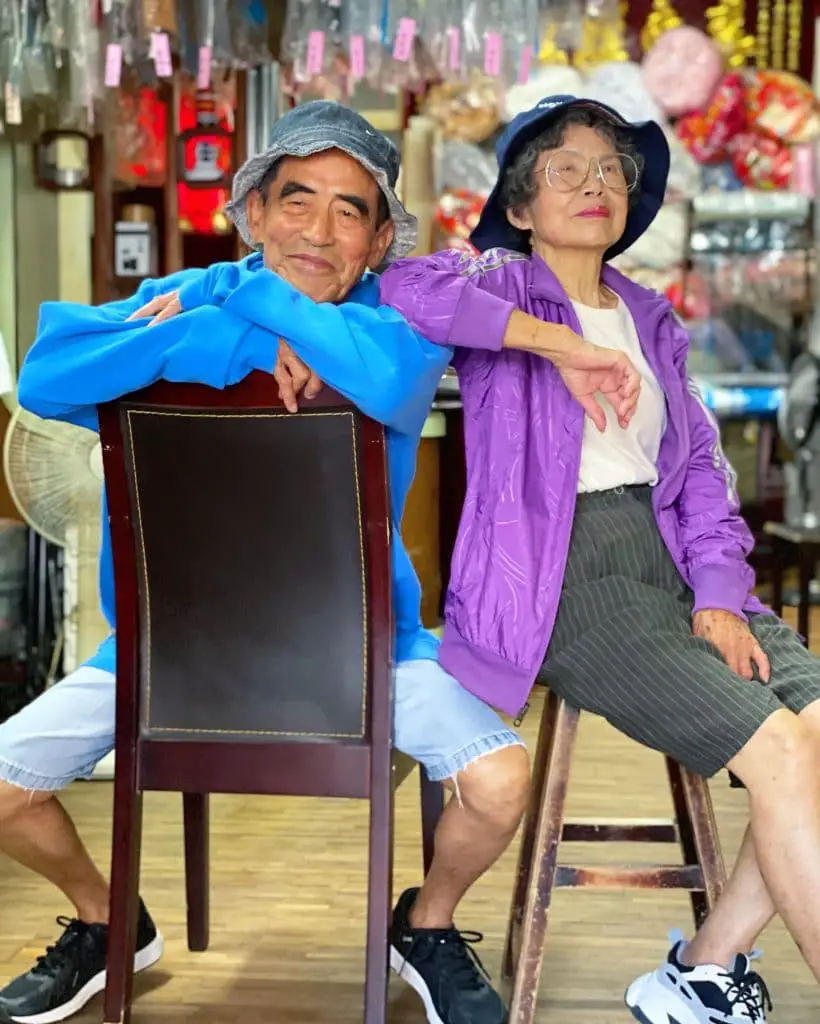 Once the pandemic hit, the laundromat faced workload averaging at least 50% less than from 20 years prior. With fewer customers coming in and business slowing down, the couple's grandson, Reef, noticed the two were in a slump. Describing them as boring, Reef set out to swipe a smile on their faces by creating an Instagram that styled his grandparents in the clothes left behind at their laundromat. The Instagram account @wantshowasyoung quickly grabbed global attention. The couple's fashionable 'fit pics in recycled clothing had people once again thinking like Mackelmore saying "I'll take those flannel zebra jammies, second-hand, I rock that motherfucker." Because this couple, in their second-hand styled outfits, rock those motherfuckers.
Instant Insta-fame
At first, Reef thought the Instagram account would be a fun way to bring joy into his grandparents' life and possibly draw a few laughs from his friends. Little did he know that it would go on to attract international attention. The account was created around the end of June and has racked up over half a million followers from all around the world in approximately four months. "Maybe at first I thought about getting attention among my friends in Taiwan…but I didn't expect to get global likes (really thank you)," said Reef.
Each post features the octogenarian couple posed, flexing on their followers in fresh 'fits. The process began a little haphazard, choosing similar types of clothes for the both to wear. Then eventually, Wan-Ji and Sho-Er began to dig up their wardrobe from a time in their youthful days leaving Reed to describe them as "very fashionable when they were young." No wonder they still know how to put together garments that look off the runway.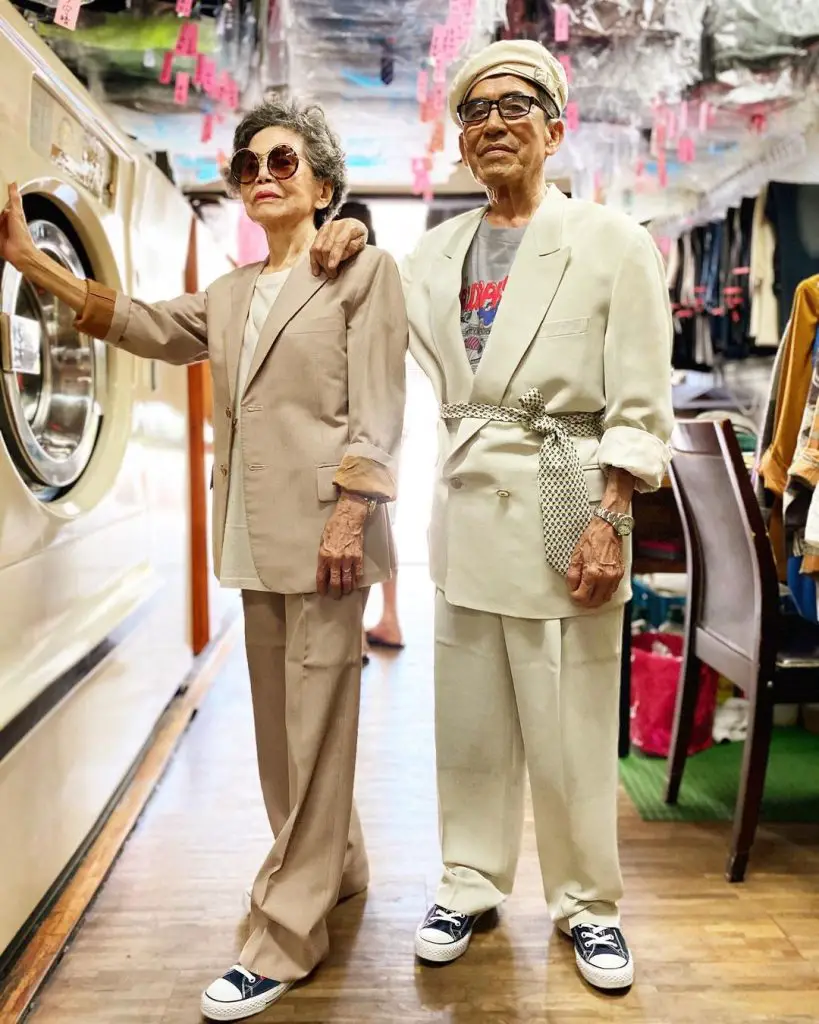 On their Instagram you can see the couple dripped in bucket hats, tailored matching suits, cross body bags, Adidas jackets, and accessorized with funky shades, berets, and neck scarves. Reef discussed that in the Chinese society, though he's not sure why, dressing becomes more "normal" with age and fashion can become restrained. However, him and his grandparents' creative spin on styling second-hand clothes from their laundromat is showing the world that fashion truly has no age, all the while pushing an agenda for sustainable fashion. In a world highly consumed and fueled by fast fashion, these two and their grandson are reminding the world that sustainable fashion is necessary and frankly, stylish as hell.
Sustainability has been "instilled in us since childhood," told Reef. The elders taught him to "treasure clothes very much." He discussed clothing being past down from grandfather, to father, to grandson as they "hope to pass new ideas [and] convey the importance of sustainable fashion" as a way to be kind to the Earth. Their Instagram account is just another means to pass on this message.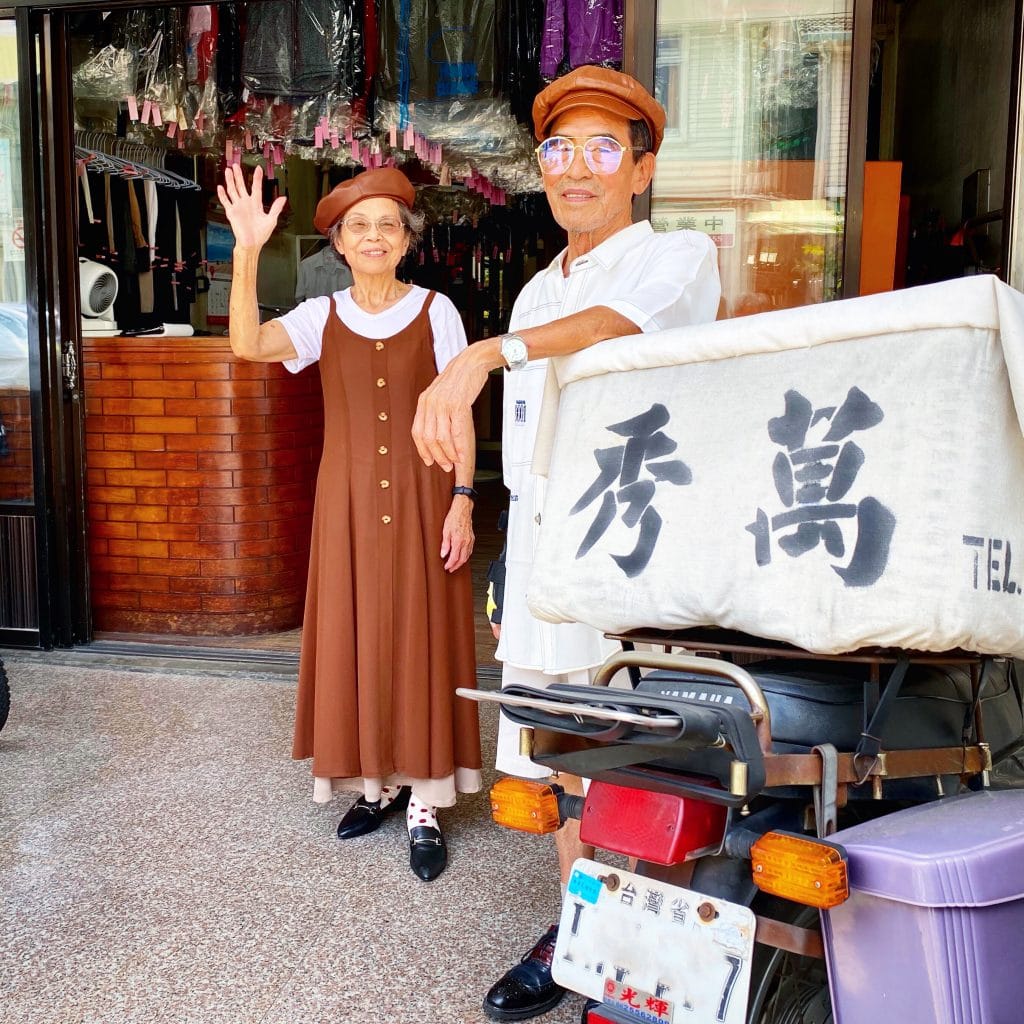 Reef's intention to make his grandparent's life less boring definitely surpassed its goal. "Their lives have become much more interesting…their lives have become more colorful," told Reef after experiencing the outpour of appreciation for the account. And by creating and continuing the account throughout such dark times, Wan-Ji and Sho-Er have made many other lives and wardrobes just as colorful. They were able to take a moment in time that is causing massive tension throughout the globe and turn a creative idea that positively reverberated across oceans. People leave comments sharing how much enjoyment the pair's outfits bring to them and when Reef reads the comments to his grandparents they laugh, feeling very happy and never expecting that many people to like their content.
Each post gives a little insight to their life and the story behind whatever clothing is in the post. The significance to care for your clothing is thematic throughout the feed. One post even shared a picture of Sho-Er in a custom made dress and a coat that was her dowry for marrying Wan-Ji in 1959. The caption went on to reinforce their instillment in Reef to consciously care for clothing as the post read that clothes can be worn for a lifetime if you wash and preserve them well. They prove so by Sho-Er posing in a dress from over 61 years ago that is still perfectly capable to be re-worn and valued.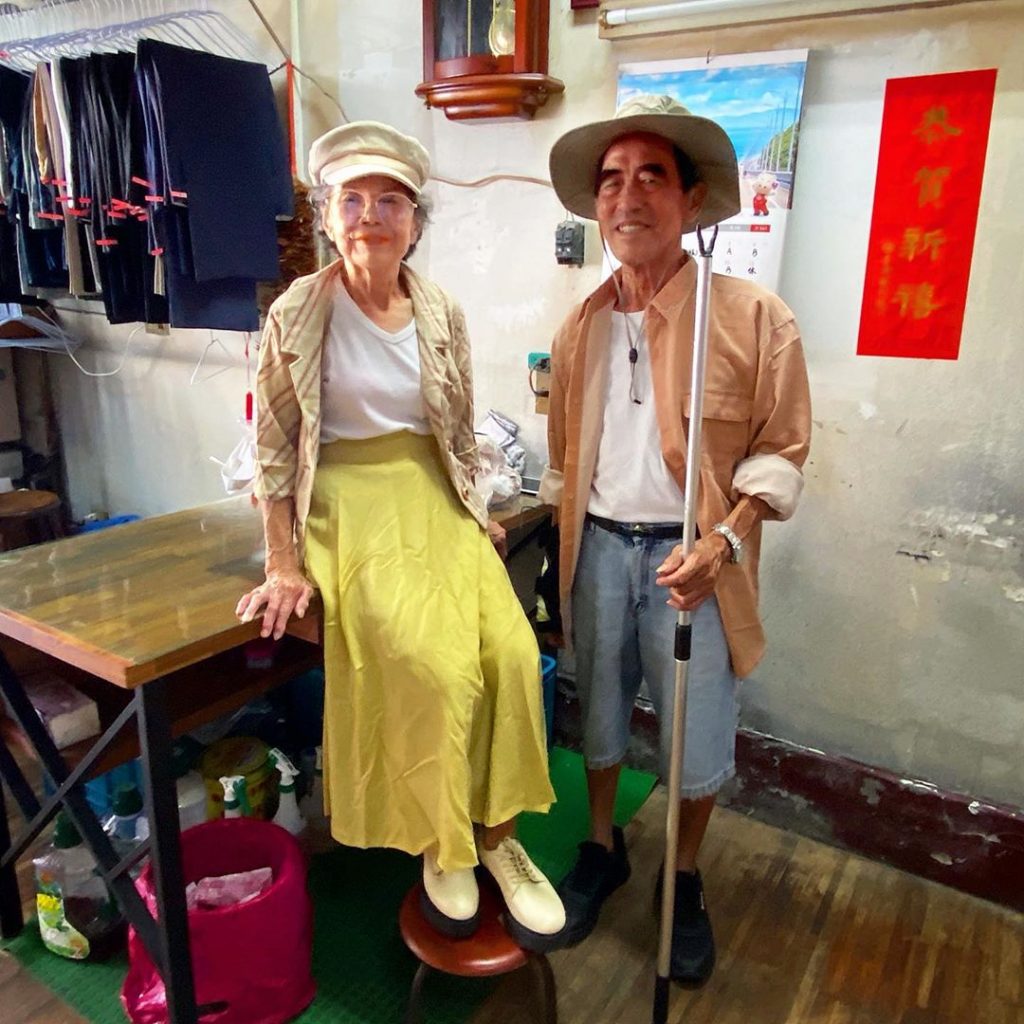 Beyond the gram
When asked about the future of the endearing couple and their Instagram, Reef shared that he hopes to preserve the original intention that his grandparents will stay happy and healthy. A Facebook and Youtube channel are currently in the works where content will vary on each platform. The two will continue "to convey the concept of recyclable fashion to the world," said Reef.
He expressed how happy he is to see the smiles on his grandparents face and rise in confidence after receiving so much love and support across the world. "Now there is more laughter in our house, they are no longer so boring," humorously explained Reef. His grandparents will continue to be the faces of sustainable style and fashionable taste as they persist to let more people see through them. They will spread the message that "people at this age can be so young," reminds Reef.
So maybe scrap the advice you have been receiving from your twenty year old influencers on your feed and try taking some styling lessons from your elders. These 80 year olds are staying hip rather than getting theirs replaced, continuously proving that fashion is ageless.
Featured image: Courtesy of WANT SHOW as young