Wondering whether you should make the move to the big city? Well first you've got know what you're getting into...
Moving to New York isn't as simple as booking a flight and cramming your shit into some grimy closet space that is now your kitchen, toilet, living room, and bedroom; it's a 10 year commitment that you're signing off on. You want to be a "New Yorker?" Well you better be prepared to love this city more than your spouse, because you can get divorced after a year and still have had the label of marriage, but if you don't last 10 years with this city you can't even claim the title of "New Yorker." So follow one of New York's newest members, Jermey Cohen, free-lance photographer and viral creator, in celebrating his journey of living 10 years in New York.
Why Make the Move to NYC
Born and raised in Bethlehem, Pennsylvania, Cohen first moved out to New York City to start his freshman year at the School of Visual Arts. It wasn't until his sophomore year, after a quick search on craigslist, did he relocate to Brooklyn, where he has lived ever since. Cohen tries to make the most of each day in the city from sunrise yoga on the roof, daily bike rides, to enjoying a tea in the park. Interaction fuels Cohen's inspiration. What greater place than the blunt, gritty personality of New York to meet new people at every turn of the corner? Cohen described the difference in the air of New Yorkers. There is something really special to the city that you can't find elsewhere. They undergo everything together and come out the other side with tougher skin.
Creating in a City of Competition
When questioned on the pressures of producing work in a city so filled with creatives, Cohen mentioned that if anything, he'd feel less inspired if he wasn't around other makers. He talked about the importance of surrounding yourself with creators that want to boost each other up. It's not about deprecating comparison, just healthy competition. However, ultimately his only competitor is himself.
Creating really changed for Cohen when he discovered that it's not all about the photography equipment for him. Instead of walking around the city with reflectors and other large gadgets to stroke a photographer's ego and make them feel like an accomplished artist, Cohen learned to value minimal gear alongside a candid instant. Not only that, but he could accomplish as great or better of a product only using natural light. Once that registered, he was able to shoot more, stress less, and merit moments over technicality. Touching on mental health, Cohen expressed that his stress mainly stems from overloading himself. It becomes easy to pile too many projects onto one plate in addition to staying active across all socials. Cohen wants to do and experience so much but as quick as a New York minute is, there's just not enough time in the day.
Now a viral creator, he talked about the "combination of stress and bless." It's an incredible feeling to receive positive responses on released work that accounted for so much time and effort. Nevertheless, he has to remember to make time to care for himself. New York is so hustle and bustle that sometimes it can be hard to take a step back from work, especially when there's so many ideas to explore.
New York Novelties
One perk of living in New York are the wonderful parks. From Prospect Park to Washington Square, New York City parks are one of Cohen's favorite locations to shoot. He ensures to carry his camera on him when he's out because he never knows what he may come across in the city. Traveling mainly by bike, Cohen tries to take time out of each day to enjoy leaving his apartment. Constantly exploring New York essentially led to Cohen's passion project, "Today I Photographed." For over a year and a half, a consecutive 614 days to be exact, and still occasionally ongoing, Cohen would politely ask strangers that caught his eye if he could take their portrait. A lover of people and storytelling, with portraits he finds that it's "more than taking a photo, it's building chemistry with a subject."
Cohen and his friends constantly push each other to do different, creative things. Yet, it wasn't until he was out assisting photographers throughout his first years in the city that he truly built confidence in his work. Putting all of his free time towards personal projects, he used social media to generate some attention. As years passed, he continued to feel more self-assured in his craft. Now, Cohen is dabbling further into videography as he's still a little scared with the medium. It reminds him of how he felt in his early days of photography and he finds that exciting.
"As an artist we have room to grow…always, and getting too comfortable is a setback."

jeremy cohen
The Transition of Living in New York to Being a New Yorker
Ten years in the city is most definitely a milestone. Wanting to be respectful to the true born and raised New Yorkers, Cohen said it's less about the 10 years here that makes him feel like a New Yorker, and more so because New York is where he feels at home. After living in six different apartments, each move has been an upgrade. Advancing from a shoe box to a closet in more New York terms. With time comes growth and with each space came new inspiration for his art and personal development.
But his viral journey didn't really begin until he released his "Quarantine Cutie" series that received over 35 million views on TikTok. What makes Cohen different is that his success didn't stop after this one time viral hit. Never before have we seen the likes of a creator since Casey Niestat that can continue this longevity of content that maintains relevance and high numbers of interest, until Cohen came along. He went from averaging 20,000 views a video to now reaching way beyond 1 million. Here's a further look into his viral timeline:
Quarantine Cutie Series: March 22, 2020 (1.19 M views on Instagram, 36.5 M views on TikTok )
Bubble Date (Part 3 of Quarantine Cutie): March 27, 2020 (1.27 M views on Instagram, 9.5 M views on TikTok)
Roof Culture During Quarantine: April 18, 2020 (1.08 M views on Instagram 4.9 M views on TikTok)
Delivering 42 Pineapple Pizza's on Heelys: July 21, 2020 (177,279 views on Instagram, 1.4 M views on TikTok)
Backyard Wrestling: August 10, 2020 (53,853 views on Instagram)
After Reaching the 10 Year Mark
Reflecting on his 10 years, Cohen emphasized that if you genuinely enjoy what you're doing and you put in the work, you're bound to get better. It certainly helps that it never gets boring in the city, especially for a creative. Cohen's success took long to achieve; New York isn't one to blow air up your ass. He now has a cover in New York Magazine and over 36 million views on his viral TikTok video and growing. Missing the city whenever he's away, Cohen has truly fallen for this "photo capital" of the world filled with endless characters from Brooklyn all the way to Harlem.
New York Pride
What makes New York so special are those who call it home. Stumbling upon new introductions each day, Cohen said that hearing others' stories has been a major source of inventiveness for his work. He's reminded that everyone has their own struggles and successes. How refreshing that is to be reminded that your shitty problems are universal.
Always eager to give back to his community, Cohen said that is just part of being a good person. He has helped in many ways, one of them working beside Invisible Hands and Dark Room to donate 100% of his print proceeds to help deliver groceries to COVID 19 high-risk community members.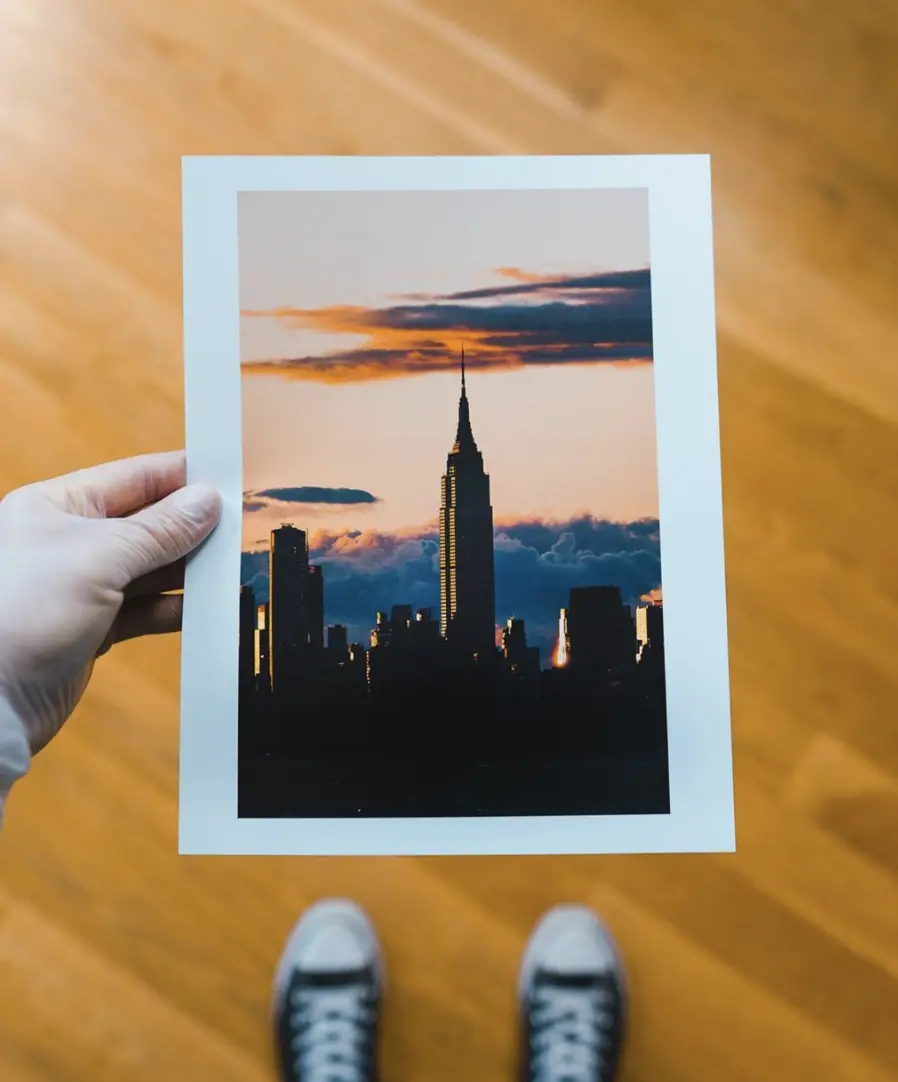 With an ever growing portfolio, Cohen's favorite project is his newest: Quarantine Roof Culture. After spending months holed up in his apartment, Cohen took to documenting the increase in rooftop activity in his neighborhood, previously mentioned in his viral timeline. As a favorite project, the entire series seems to be a fitting dedication to his celebratory 10 years. Cheers to Cohen, his work, his dedication, and his 10 years in New York.
So stop wasting your time mulling over the what-ifs and could be's and make the damn move! New York City is a place meant for risk takers and creatives. Don't strip yourself of the opportunity to one day reach the success and 10 year mark that Jeremy has yourself.