There are endless options when it comes to selecting a coffee shop to dedicate long days of work and study. However, in the East Village, in particular, there are several stops. These all provide the wifi, outlets, and meals necessary to maintain your workflow and stay productive. The environment of a coffee shop can increase productivity and creativity, according to NewScientist. Coffee shops with the proper seating, outlet placement, and accessibility can ensure you have more freedom to stay efficient.
In New York City there are countless coffee shops, especially in the East Village. There are always a few that stick around for the later hours. There are even some cafés dedicated solely to night owls. However, here are some of my favorite coffee shops to spend the day at so I can leave the evening open for downtime.
1. Outro
Outro NYC is a café located at 816 Broadway, open from 8 a.m. to 5 p.m. on the weekdays and 10 a.m. to 6 p.m. on the weekends. This café is spacious with several outlets spread throughout it. When the weather is nice and tame, the outdoor portion of the café accommodates WiFi users. In addition to rich and satisfying coffee, the menu is diverse, making it easy to stay for hours. The menu holds a variety of teas, smoothies, refreshers, and fresh juice. For cravings, you can choose from salads, sandwiches, an array of popular waffle dishes, and all-day brunch entrées.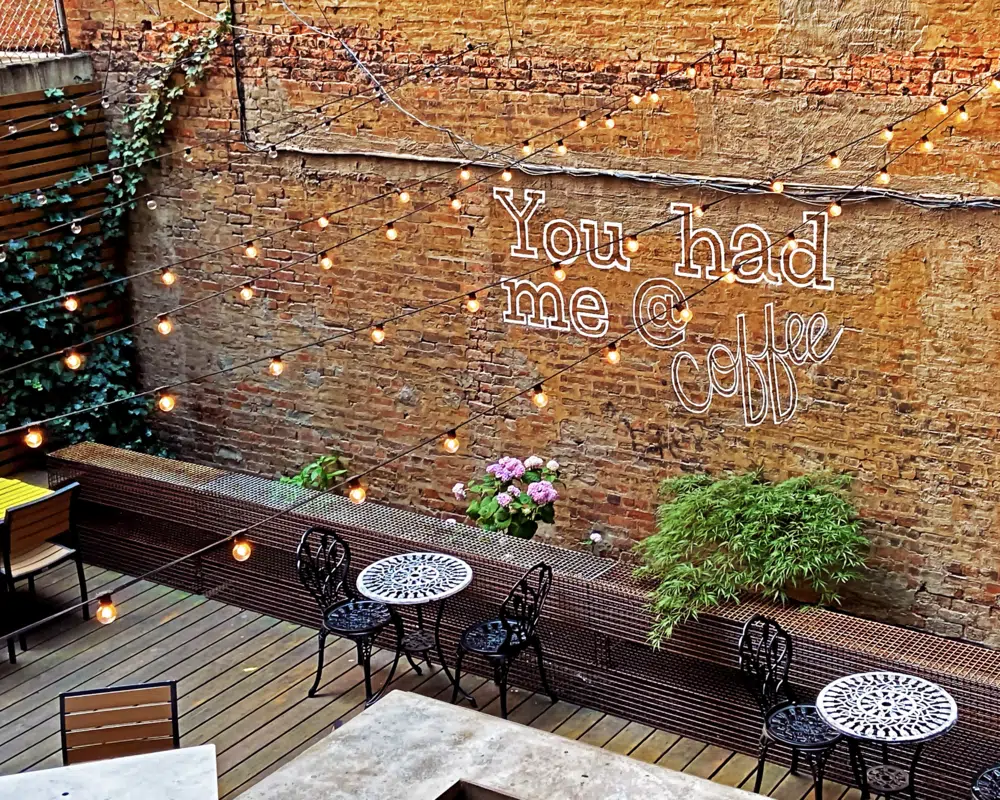 2. Kona Coffee and Company
Located on 1st Avenue, Kona Coffee and Company is "the only coffee shop that brings Hawaii's premium Kona coffee to New York City". The coffee shop aims to bring a sense of peace to the fast-paced schedule New Yorkers tend to have. Upon entering, an LED sign rests on the wall welcoming customers with the colloquial phrase: "Chillax". Since the city is constantly a busy environment, Kona Coffee and Company hopes to infuse the taste of Hawaii coffee to bring a slowness to the New York daily hustle. The menu has a wide range of coffee, including signature Hawaiian specials, and other meal options at reasonable prices.
3. The Bean
A chain seen throughout the village, The Bean NYC is a large and open-spaced coffee shop. The large wrap-around windows at each of its locations provide adequate lighting. Its menu spans across the wall with countless meal and drink options. You could almost marvel at each item's creative design like pieces at an art gallery. The coffee shops remind their customers of an authentic New York feel. The coffee shop fought back after the Starbucks chain planned to take the place of its original location. Now located in several locations, including Brooklyn, the coffee shop is a symbol of resilience and authenticity.
Staying All Day
The East Village itself has an overwhelming amount of options when it comes to coffee shops with good lighting, seating, and coffee. However, it can be difficult to find a coffee shop with accessible wifi, outlets, a diverse menu, and lots of seating for the rest of the day for re-positioning. Working all day requires an environment that meets technological and physical needs. These are the ones for you.
Featured Photo by Nafinia Putra on Unsplash