If you've run out of activities to do, then you found the right place. Right now is a perfect time to go skiing, especially during a time when everyone's daily routine has been somewhat the same for a whole year. Anyway, regardless if you live in New England, mountain skiing is one of the few activities you can do while staying six feet apart. Here are some spots that you can drive to with a group of friends… to relax and unwind!
Sunday River in Bethel, Maine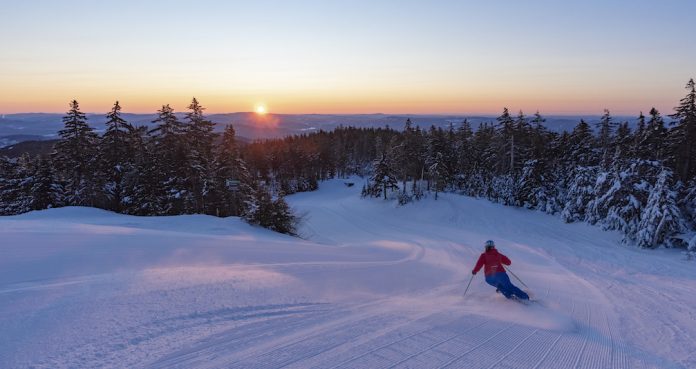 Presented by OutRyders, New England's largest LGBTQ ski and snowboard club, Sunday River will take place next weekend from February 5th-7th. The resort is a great destination spot for both beginners and advanced skiers "who want to kick up some snow" says Scott Kearnan. There are other things you can do aside from skiing. One activity that you and your group of buddies can enjoy is the Maine Mineral and Gem Museum. The museum houses one of the world's foremost meteorite collections. Another option could be to rent out a screening room at Gem Theater or indulge in hot chili or spicy ribs from Smokin' Good BBQ. In fact, despite the pause of live music, you can still join "its Mug Club to add your own personalized stein to the hundreds suspended from rafters overhead" says Kearnan.
Cannon Mountain in Franconia, New Hampshire
Finally, Cannon Mountain is well-known because of its steep hills, including the DJ Tramline. What's even better is that gold medal Olympian Bode Miller practiced here, giving you all the more reason to check it out. If you look past the tough trails and whipping winds of the White Mountains, you would find other things to do like enjoy the Highland Inns. According to Kearnan, "the charming, 100-acre property even includes a dog-friendly private cottage, disconnected from the main house for an extra air of escape."
If you're into the arts, don't be afraid to take a short trip nearby Lincoln, where you could tour the Ice Castles, "an awe-inspiring seasonal display of artist-carved frozen towers, archways, and tunnels illuminated by colorful LED lights." As nothing beats a beautiful tour accompanied by amazing friends, it doesn't have to stop there. Alphine Adventures offers a zipline tour, stellar views, and an aerial obstacle course suspended in the sky. Sounds scary? Yeah, I know.
Lastly, if none of those activities appeal to you, then here's something you might enjoy: a glass of wine. Seven Birches Winery lets customers enjoy wines made from as many as three fruits, including blueberries, strawberries, and apples. Their wines are so delicious that they offer wine tastings as well. So there you have it. You got a little bit of everything, from skiing on majestic mountains to various tours, to a relaxing evening at a stunning hotel.
Featured Image: Google.com