Okay seriously, wtf is happening over on Snapchat? Honestly, I rarely ever open the app, other than to keep in touch with a few random friends from high school whose numbers I no longer have saved. But, I can't seem to delete it. Maybe it's a force of habit that the app is still even downloaded on my phone. Plus, every once in a while, when I reach that disaster-level stage of either procrastination or boredom, I find myself on none other than the Snapchat Discover Page. I mean, what else am I to do when I've haplessly cycled for hours through the classics of TikTok, Instagram, and YouTube? Get up out of bed and actually start my day? Never.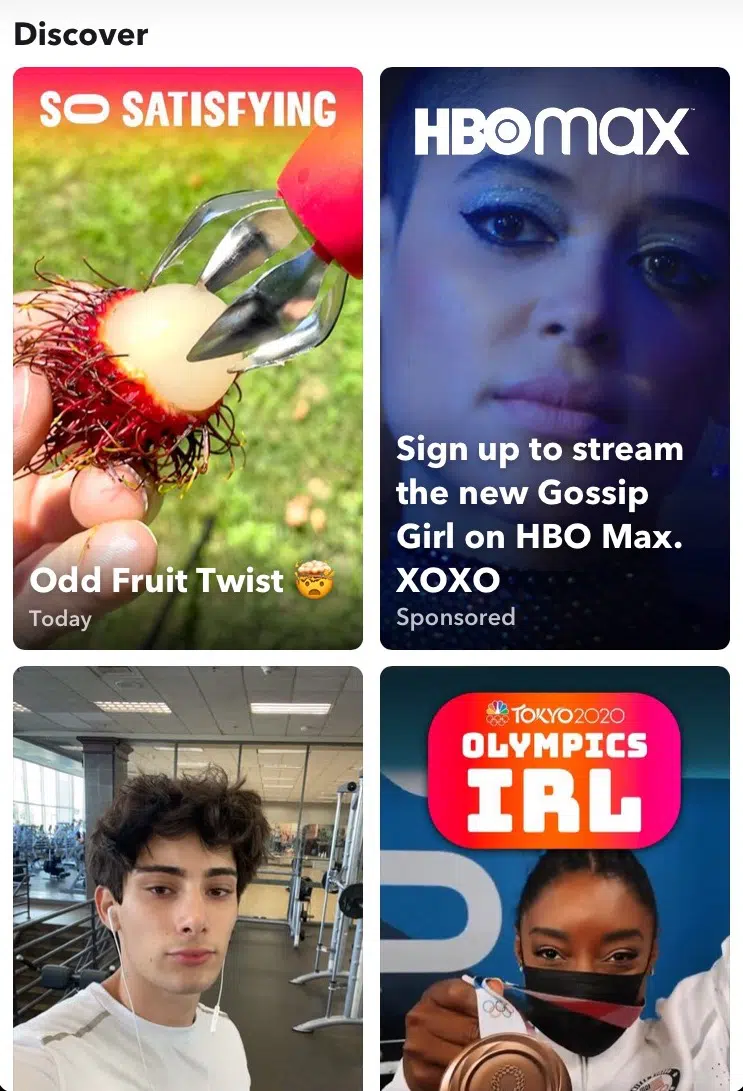 So far, my main go-to's on the Discover Page are DailyMail for Demi Rose content and that one thread called "So Satisfying." You know the one, where people send in videos of them carving soap and mixing paint together. Yeah, I could actually watch that for hours. But recently, I got curious about whether or not there's a hidden community of creators and influencers on Snapchat who are actually profiting off of posting content to the Discover Page. I mean, so many influencers have Snapchat accounts. What do they use them for? Are there influencers who solely use Snapchat?
Here's what I found after doing a deep dive into Snapchat's Discover Page:
Five Minute Crafts
Ok, this one was super weird. My first click was "2 Girls Cut and Transform Their Clothes in Public." Essentially, the "craft" was two girls standing in the middle of the street. Girl 1 violently chops at Girl 2's skirt, then pulls it over her head and turns it into a dress? The camera obsessively lingers on a number of confused pedestrians who look equally as appalled by the weird girls with the scissors as I was. And, the dress was super ugly (sorry).
I won't even make you look at this one, because it was genuinely creepy (and the video content itself was suspiciously blurry). Time to move on.
Nick Jonas
Ok, so Nick Jonas is on Snapchat. And, he's pretty active. And, it looks like he hasn't realized that it's no longer 2015. Come on, he's only 28! He should be a bit more up-to-date with the modern conduct of social media. But whatever, he's a celebrity. He can get away with it. There was something hilarious about coming across a Disney Channel multi-millionaire posting haircut selfies and time-stamped golf course photos. But, I guess this is one way for him to interact with his fans!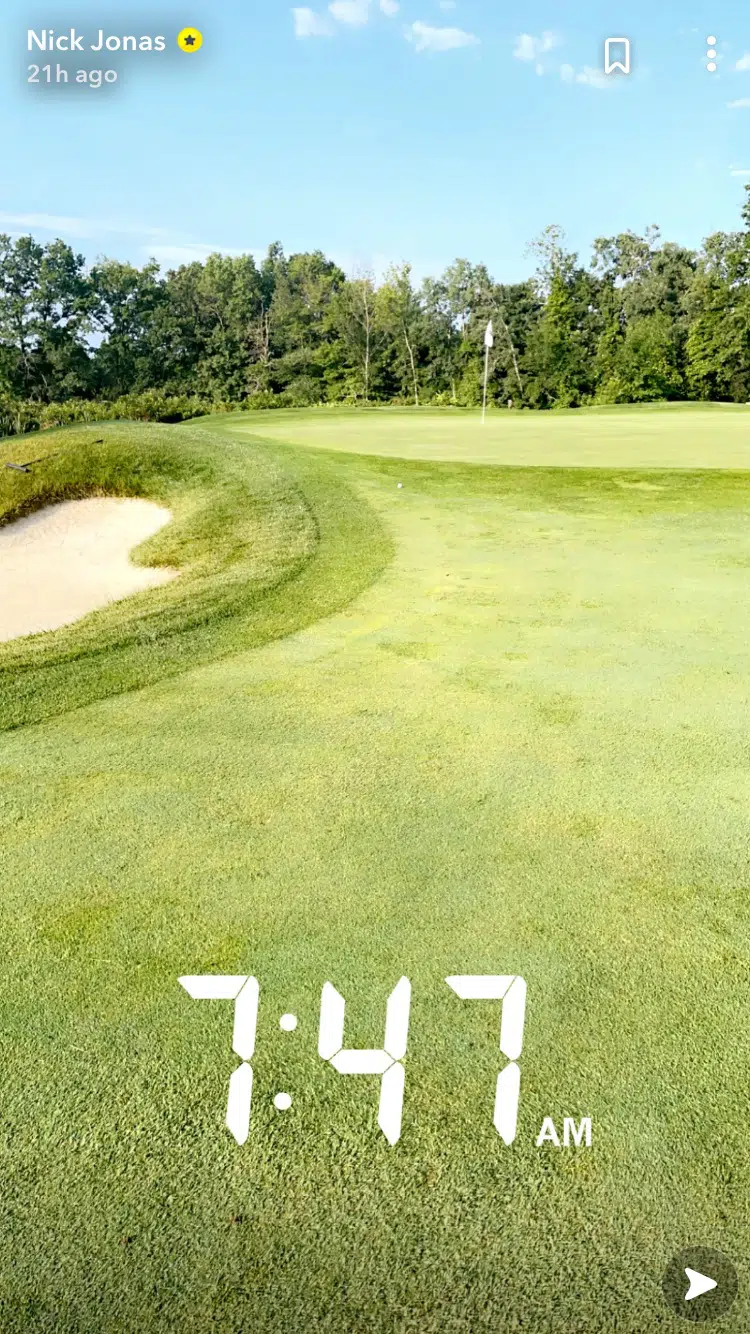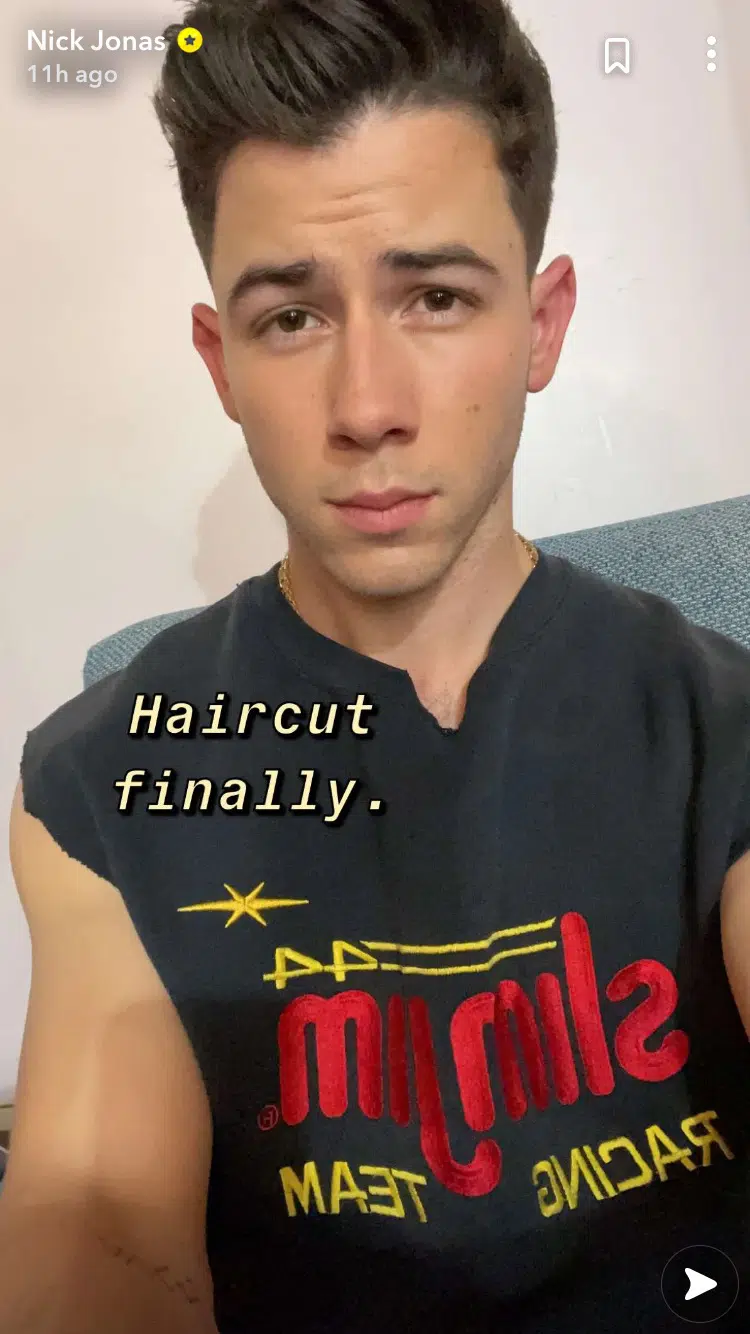 Shout Worthy
"Testing Stranger's Diamonds with Diamond Tester." This was foolishly entertaining. This guy (I couldn't find a link to the creator's name on the account) was running around with a "diamond tester" tool. He'd ask people how much their diamonds cost, then catch them in an embarrassing lie when the diamond tester revealed that they were actually just cheap painted metal. Is it probably fake, and ultimately mindless content? Yep. Was it kind of fun to watch? Also yes.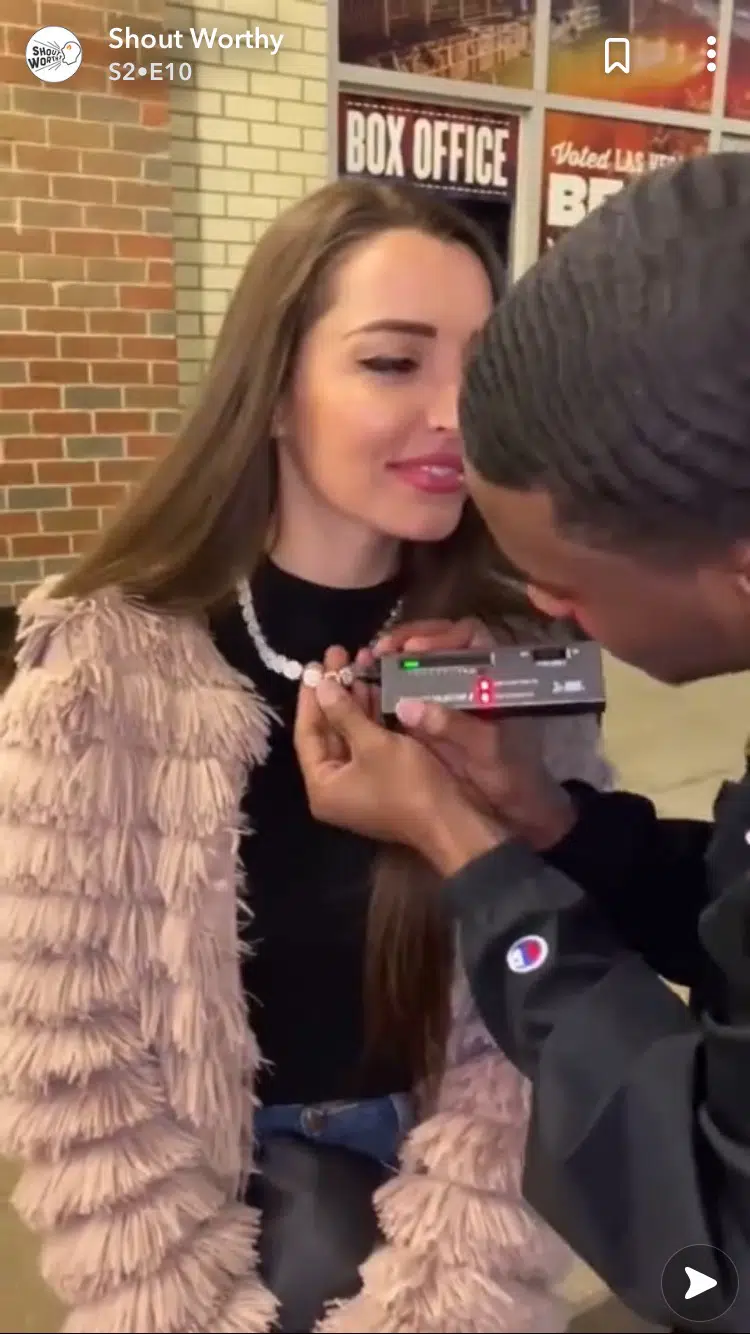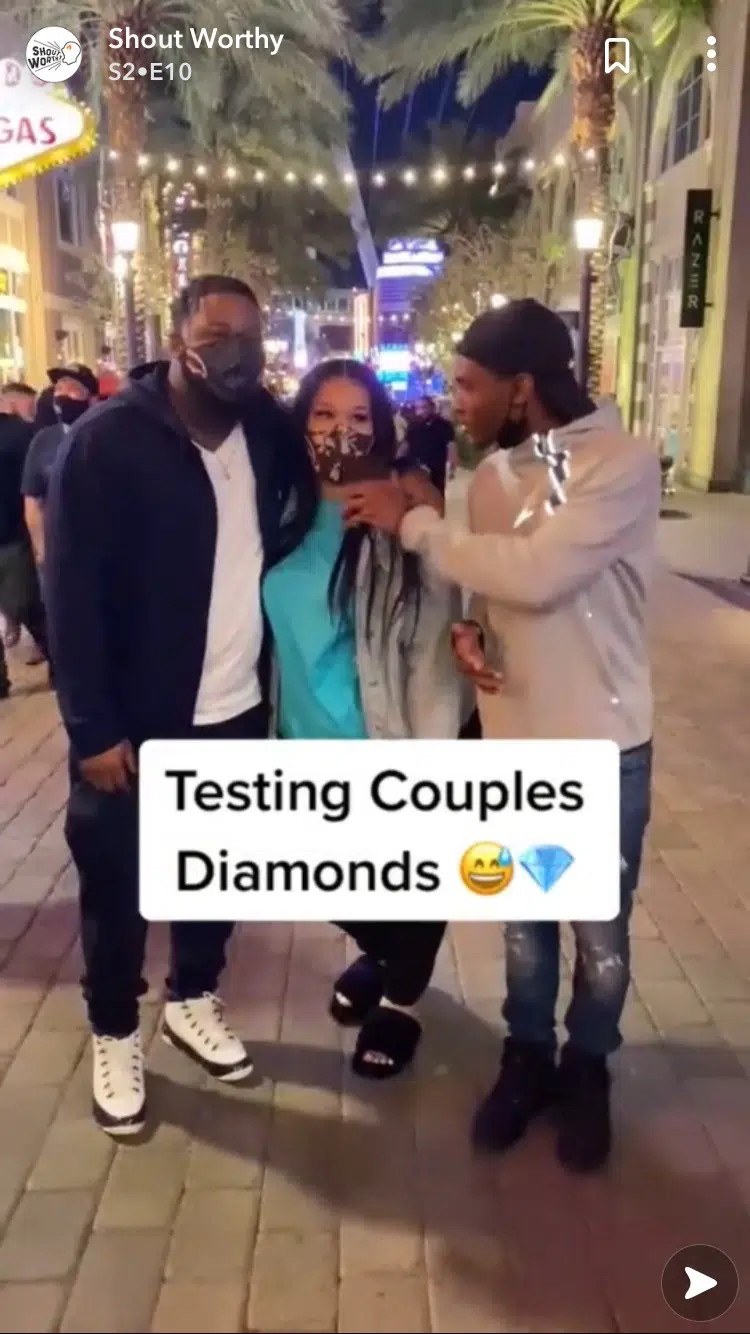 Polo Boy
Ok, so this is the first "Influencer" I've found so far. With 457K "Subscribers" on Snapchat (I've never heard of the Snapchat subscription feature before, but I'd assume it's a feature that allows you to follow influencers and digital creators on the app), Polo Boy seems to be doing pretty well for himself. Upon further digging, it seems like this creator's main platform is over on TikTok, where he posts dancing and comedy videos to an audience of 5 million + subscribers. So, I guess Snapchat influencing is just his side gig.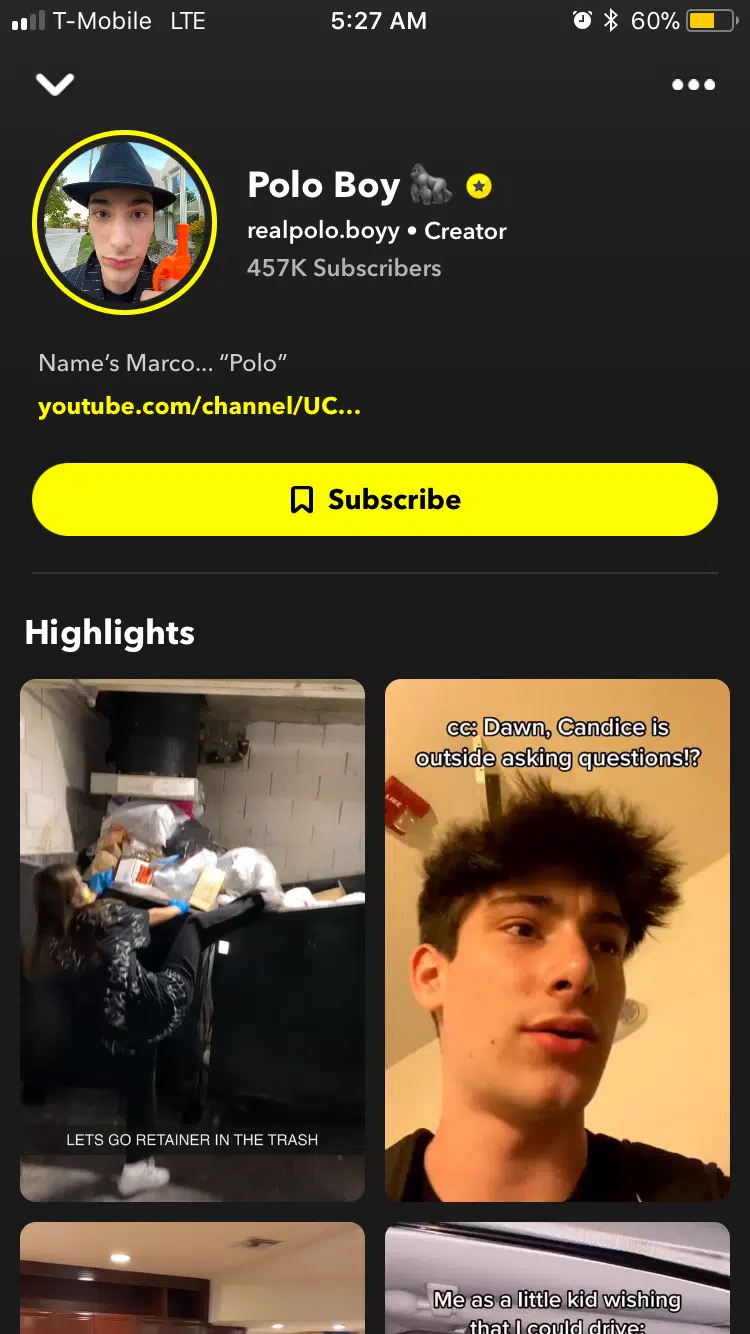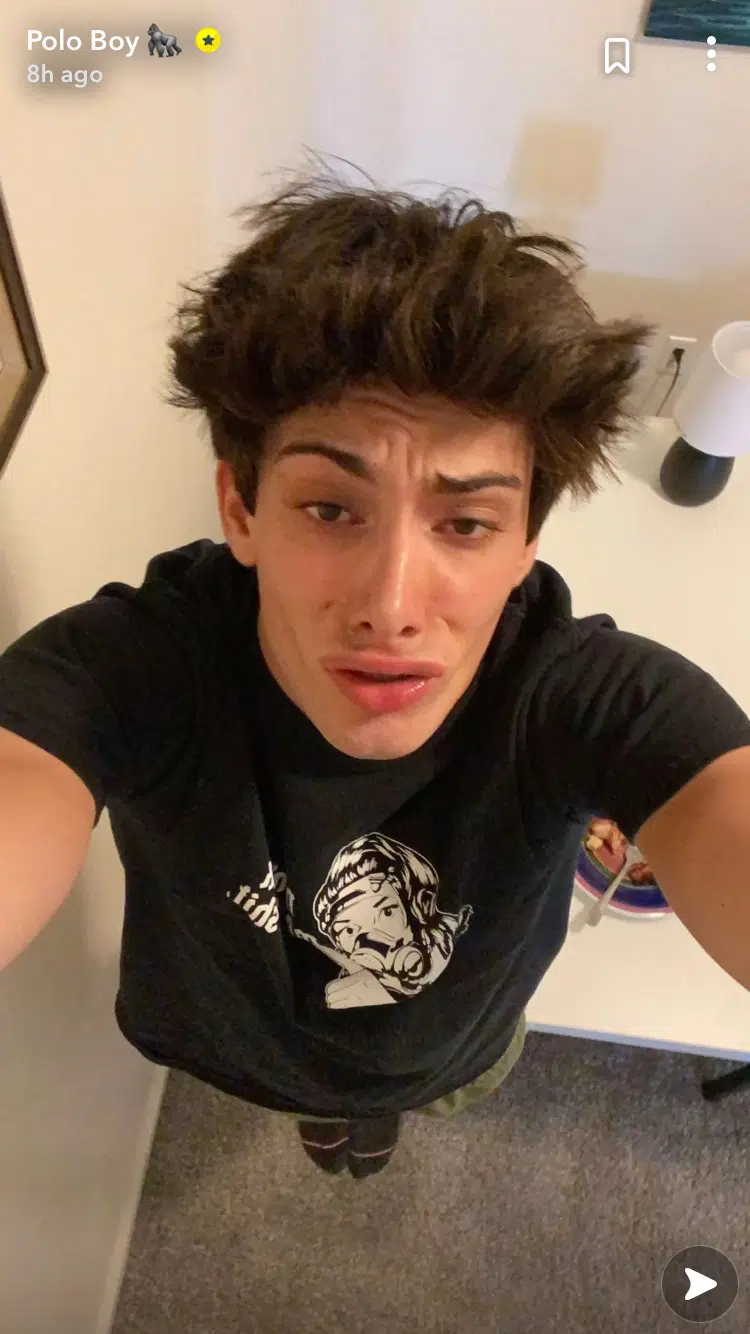 Carter Gallo
Carter Gallo is also predominantly a TikTok influencer, who's racked up a respectable following of over 1 million over on the app. In the nicest way possible, there's no "special" reason why I included Gallo in this deep dive. He just happened to be one of the literal millions of teen boy TikTok influencers I came across on the Discover page. It seems like these guys have carved out a bit of a niche on Snapchat to provide extra content for their fans. And, with 176K subscribers on Snapchat, it looks like it's working out for Gallo pretty well.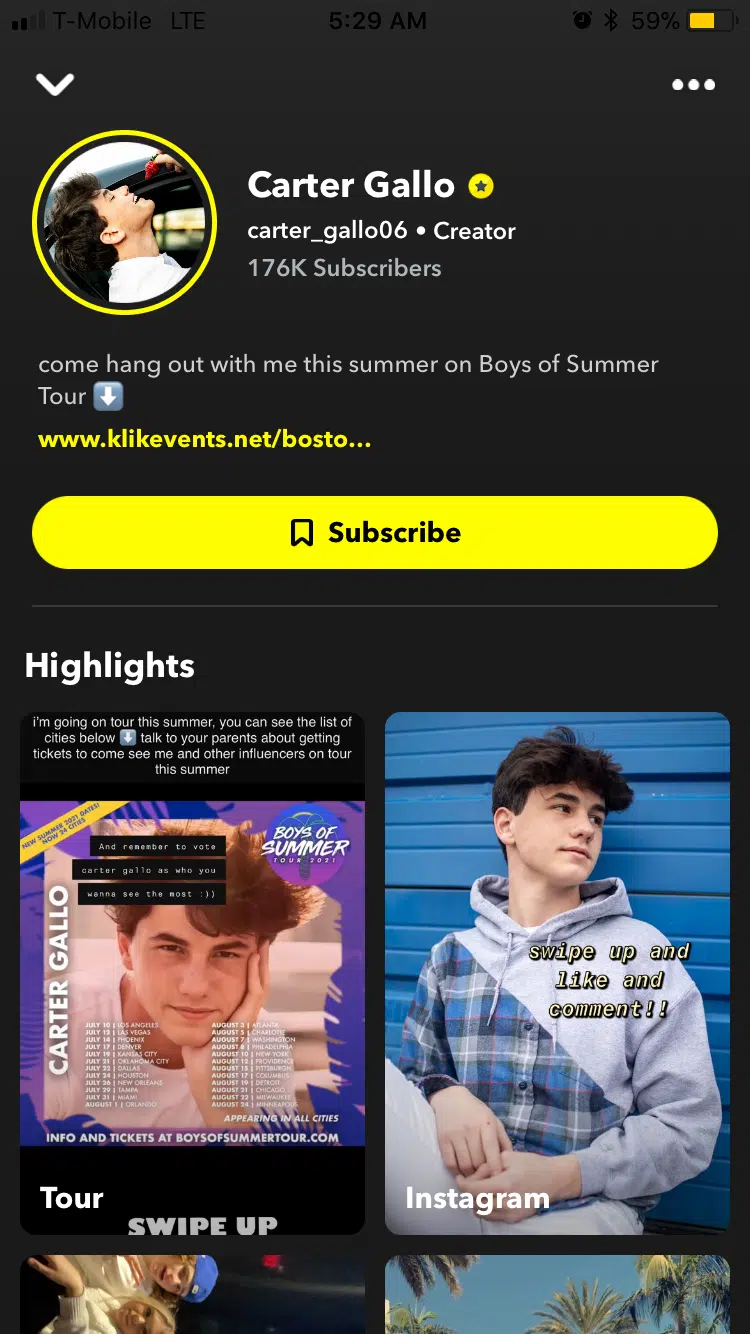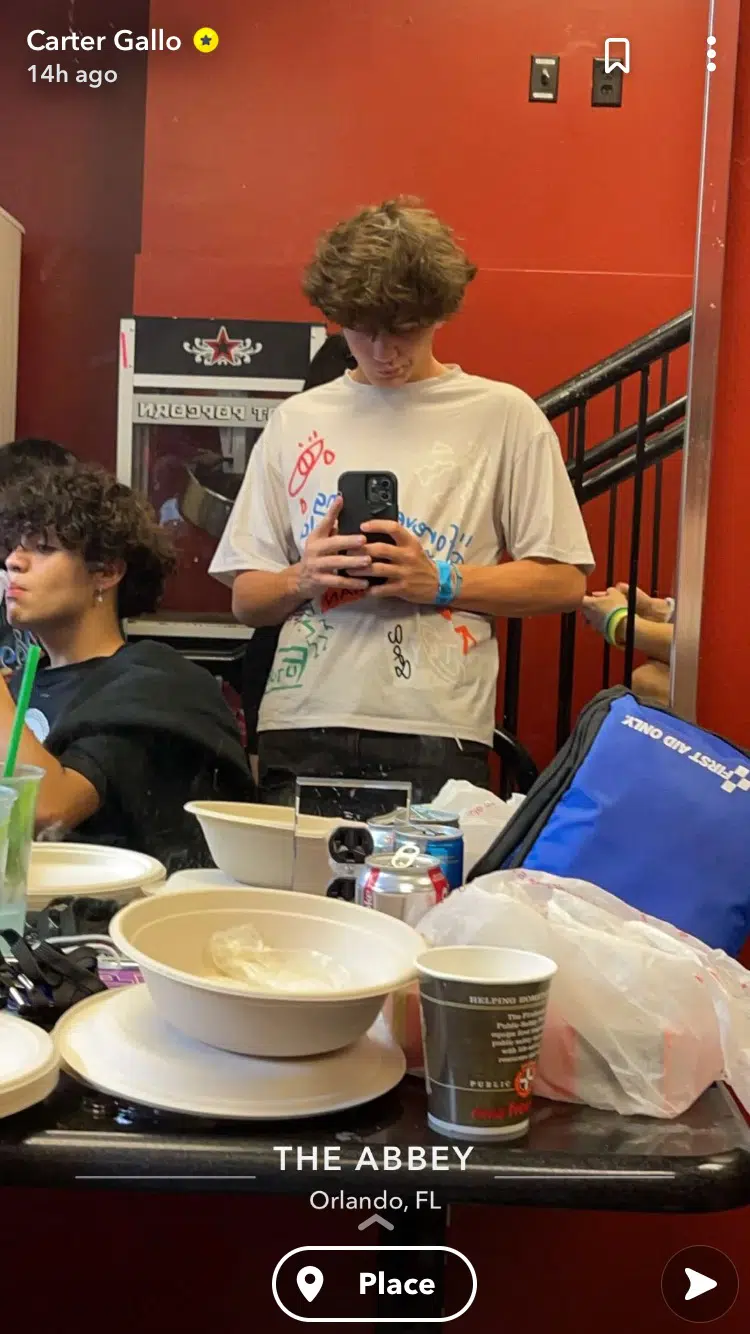 Duke Depp
Look, it's Willy Wonka from TikTok? Remember him? Yeah, me neither honestly until I came across him on the Snapchat Discover page.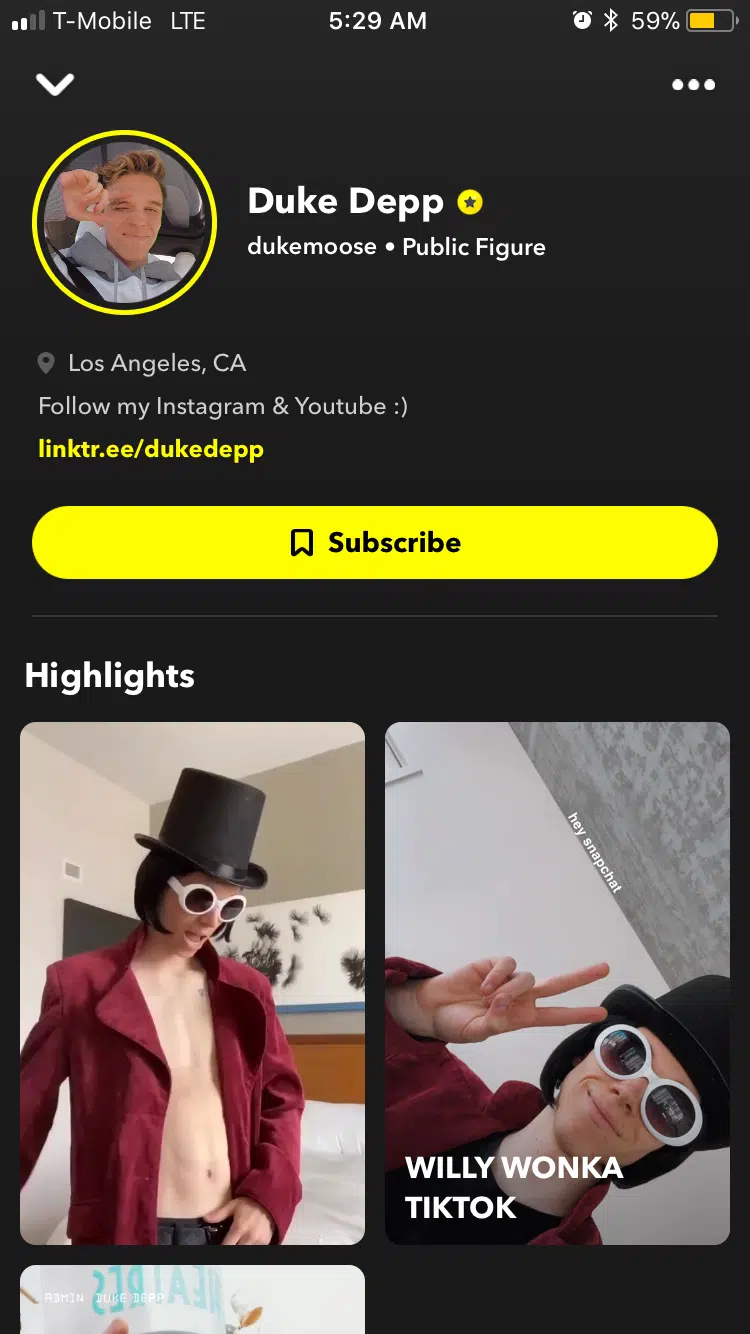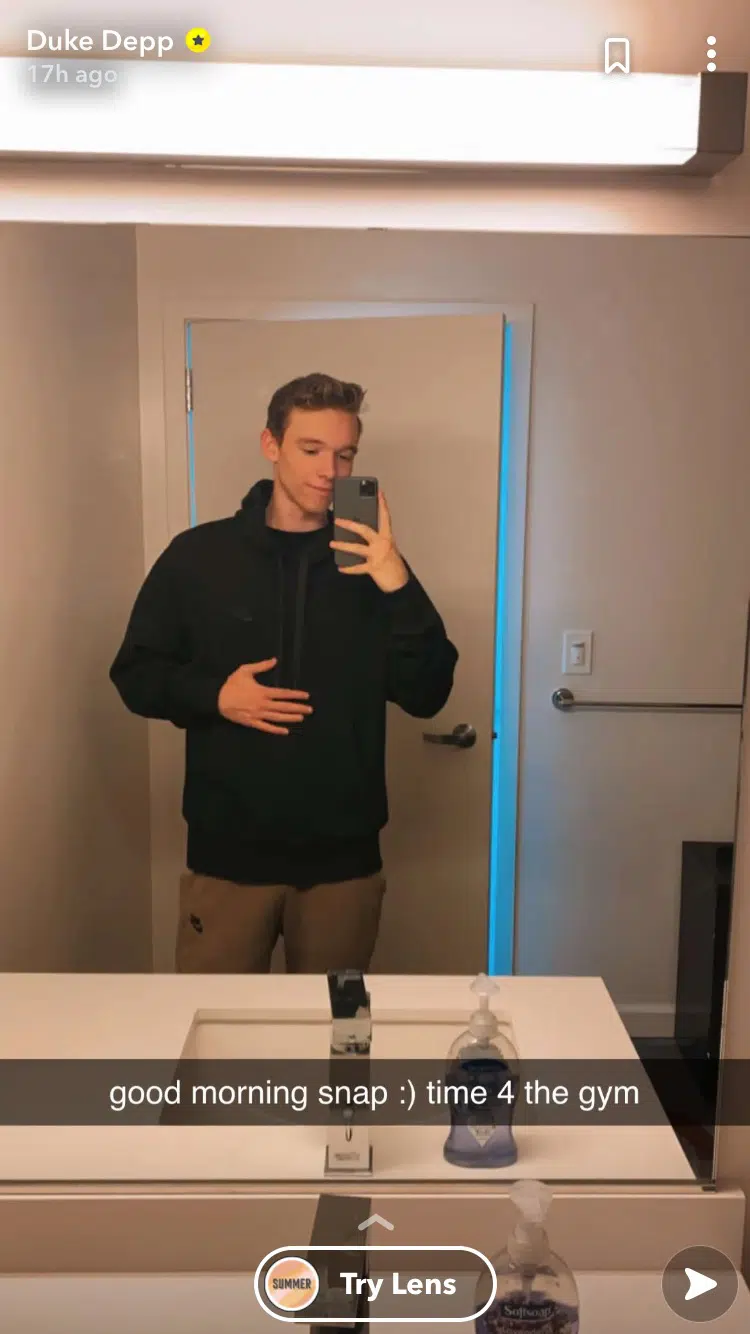 So, Duke Depp's account is a little different. You can't actually see how many "subscribers" he has, and instead of identifying as a "Creator," he's dubbed himself as a "public figure." It's well-known that Depp has made most of his fame from his Willy Wonka cosplaying videos on TikTok. So, Snapchat seems to be a place for him to both post even more Wonka content (see above), and interact casually and more intimately with his follower base (see morning gym selfie).
In Conclusion…..
Once I came across the man who dresses up as Willy Wonka on TikTok taking Snapchat selfies, I knew it was time to quit. I'd dug deep enough into the lore of the Snapchat influencer, I'd learned all of the secrets that I could handle, and I was ready to make my return to TikTok ASAP. Snapchat is weird. Everyone who seems to be influencing on there is posting stuff that seems straight out of 2015. A lot of the non-influencer content is legitimately creepy and wildly misogynistic and behind the times.
Ok but the positives? First, I'm sure there's a market for this style of content. I am just simply not in that market. But I don't want to knock it or make fun of it more than I already have. And, in a weird way, it was kind of refreshing to see unpolished, casual content posted from influencers. It really did make me feel like I was 15 again, opening my friend's daily "streak" pics. Based on some research, it looks like a lot of the Snapchat influencers are predominantly making content on TikTok. So, we can think of their Snapchat feeds as sort of a "finsta" for their day-to-day content. And for fans of these creators, that's actually pretty cool.
But if you were looking to solely make a career out of Snapchat influencing (which I highly doubt you were, but just in case!), I'd advise against it. It seems like unless you have fame elsewhere, it's pretty much fruitless to attempt to build a platform there. And, if you did, you'd be competing against a lot of very bizarre content. Genuinely, some of the stuff I came across on the Discover Page? The creepy Five Minute Crafts was genuinely the least of it.
Ok, enough of me not-so-subtly insulting Snapchat. I'm gonna go scroll through TikTok now.
Featured Image from Thought Catalog on Unsplash