What makes New York City so amazing is it's pride and encouragement for public art. New York continues to support these public works and artists stay employed and continue to provide them: it's the best of both worlds.
With that being said, no matter where you stroll from Harlem to the LES, you're sure to stumble upon murals living across the walls of the city. It's just another reason how New York City manages to stay so colorful among gigantic steel buildings. With art, New Yorkers make due.
Curious of where to find murals across the city? Here is a list of the 15 best murals across the boroughs, plus a map to go see them yourself!
1. Hammer Boy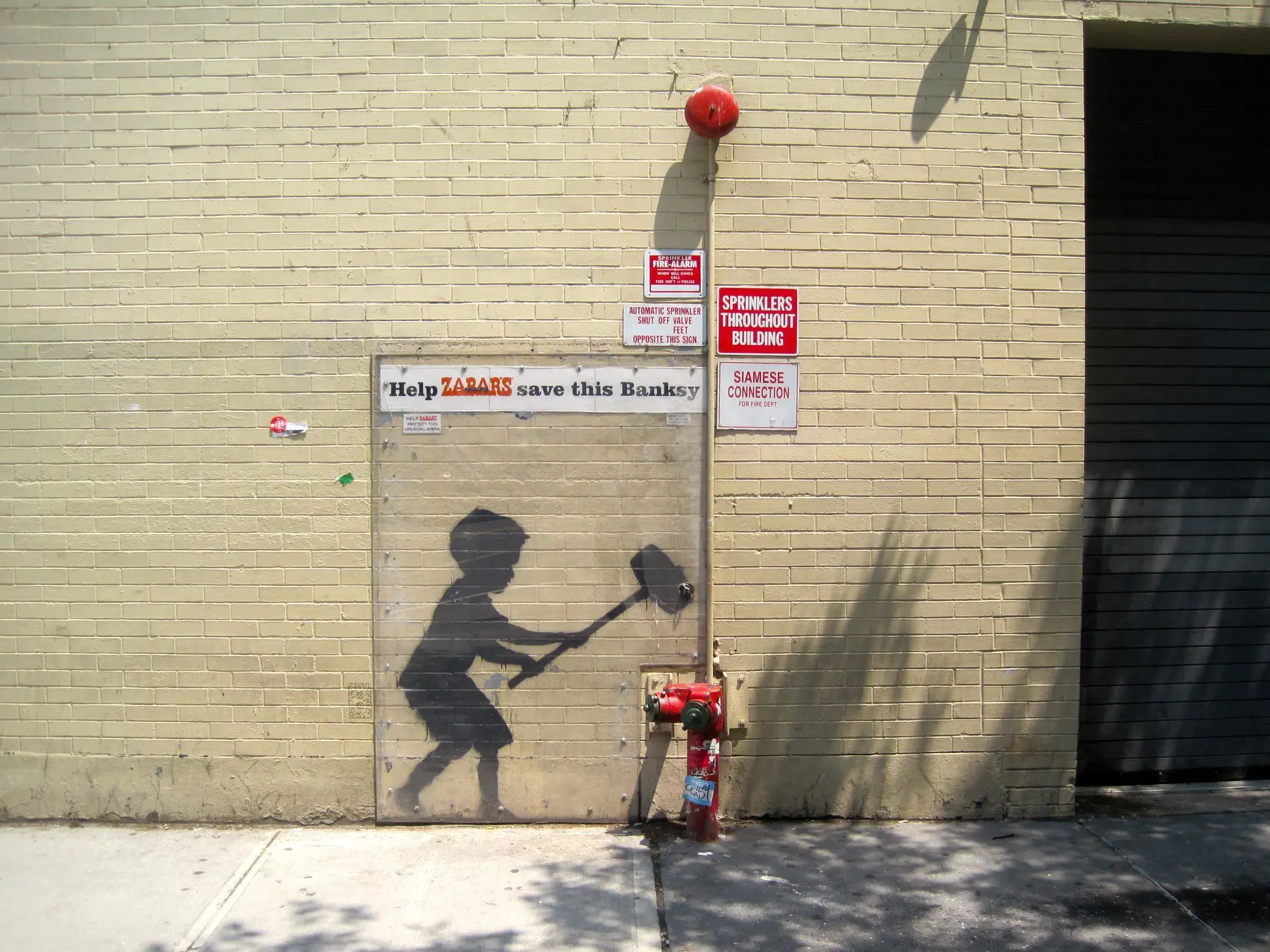 Painted in 2013, Banksy made his appearance on the Upper West Side. The British street artist worked for 31-days that October on numerous pieces around the city. Murals can be interpreted as vandalism if not properly permitted, however, the DSW store owner in which the Hammer Boy was originally painted on decided to keep the mural. Over the years it has even been commissioned a plexiglass covering to protect the mural's integrity.
Located: 79th St & Broadway, New York
2. Crack is Wack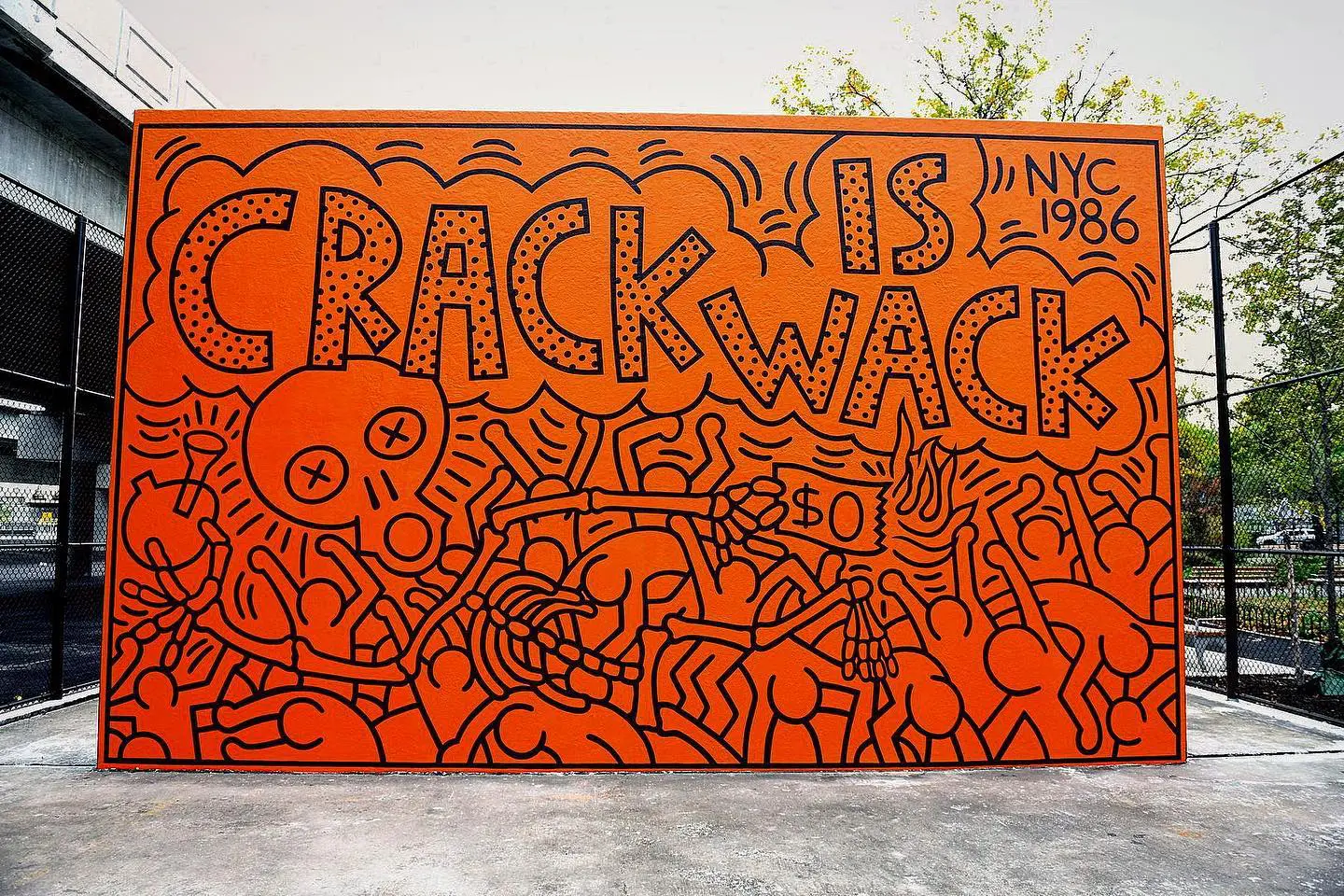 As a response to the citywide crack epidemic and the artist's, Keith Haring, studio assistant's addiction in the 80s, Haring created this anti-crack mural. The location was chosen after Haring's constant passing of Harlem's East 128th St handball court, seeing it as a perfect space to project the message. The mural has since been retouched to honor artist Keith Haring for all of his work.
Location: East 128th St, Harlem
3. Bowery Mural Wall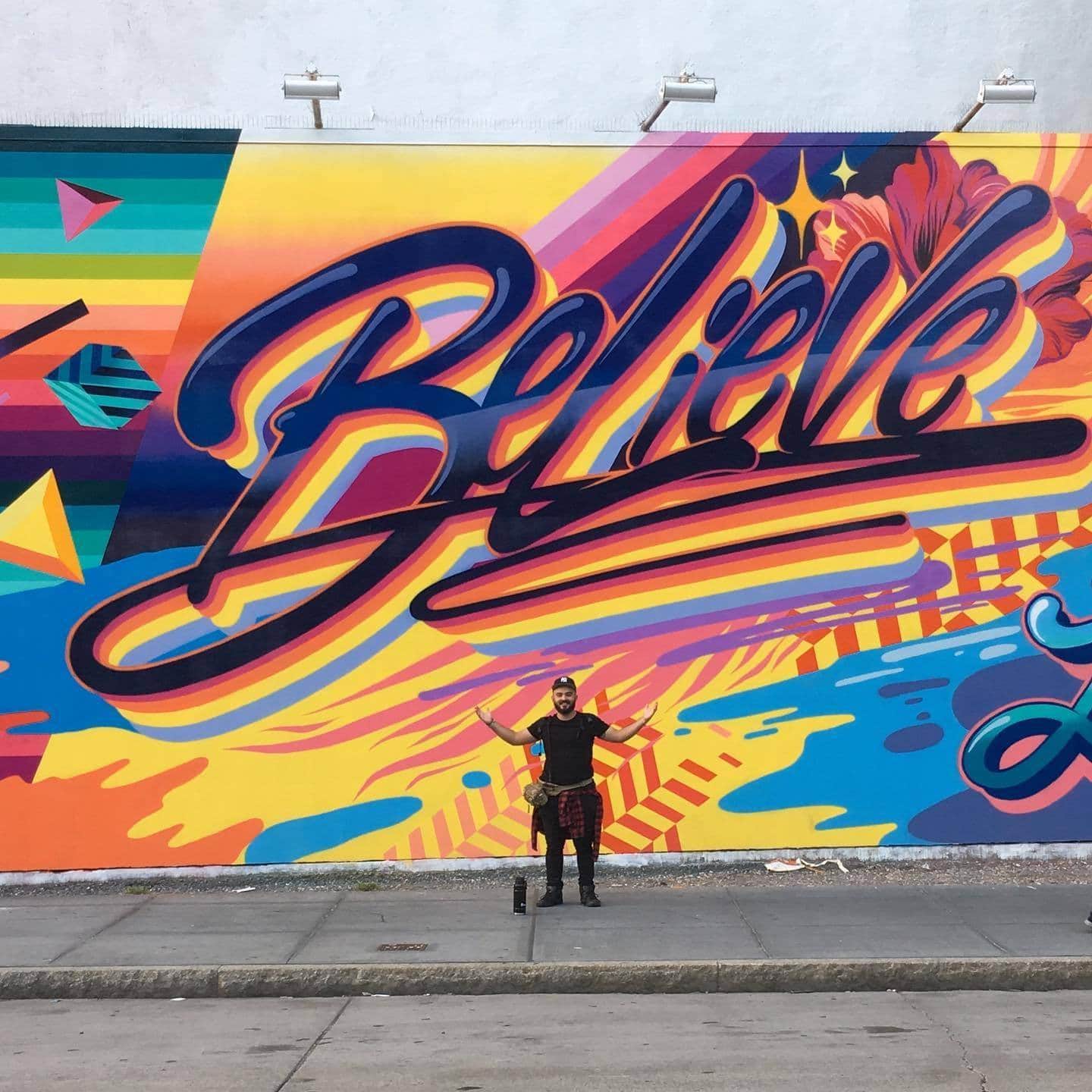 This work is one of the most interesting across the city. The Bowery graffiti wall features seasonal murals. Though no mural stays permanently, there are constantly new murals to be seeing at the sight. Currently on display is work from Raul Ayala. The first artist to ever paint the wall happened to be the aforementioned Keith Haring.
Location: 76 E Houston St, New York
4. Big Pun Memorial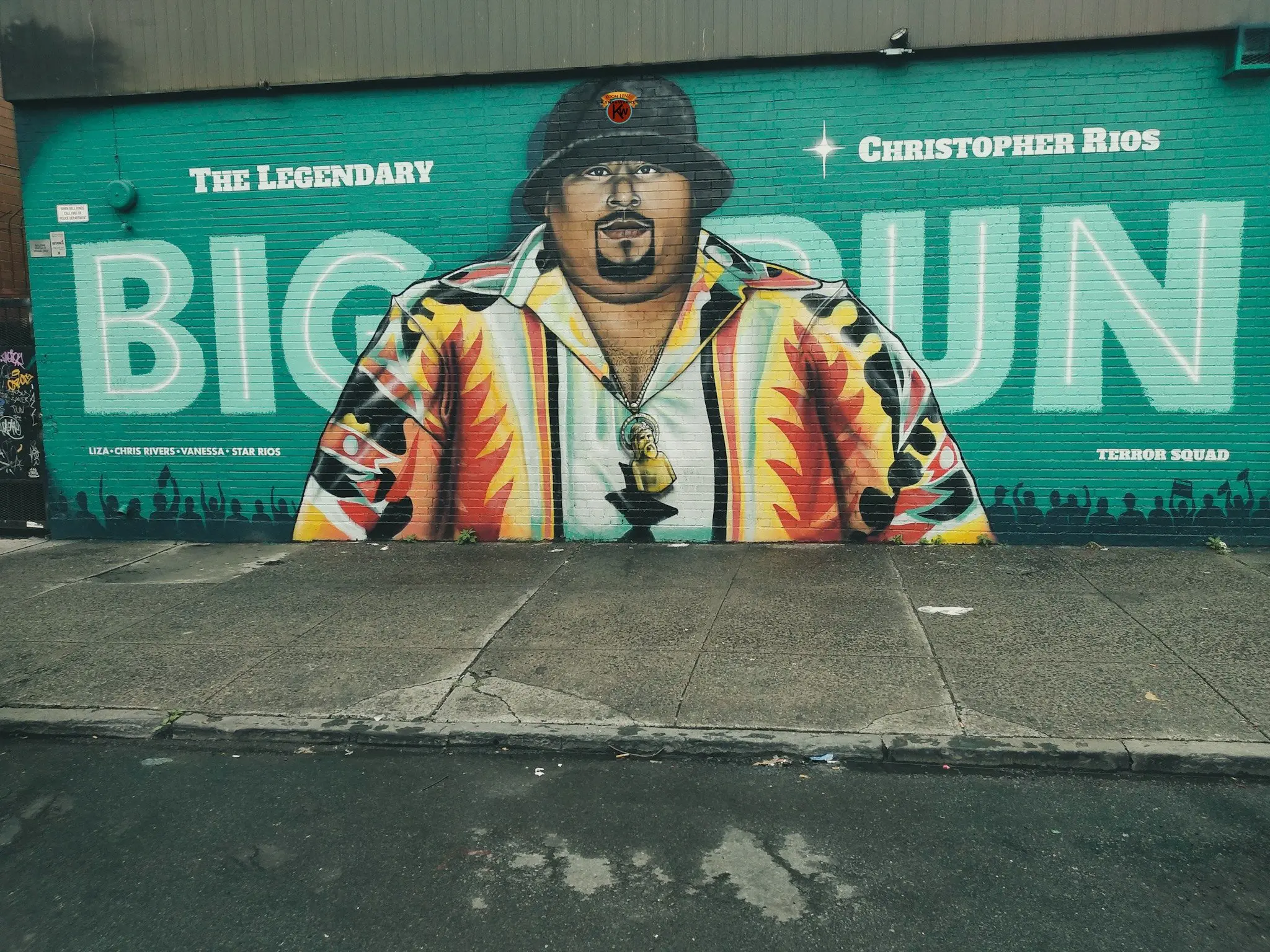 In honor of Puerto Rican Hip Hop Artist, Big Pun, Tats Cru added an enormous mural to the Bronx. Per tradition, every year on Big Pun's birthday (November 10) the mural gets renovated in celebration.
Location: 910 Rogers Pl, The Bronx
5. Ruth Bader Ginsburg Mural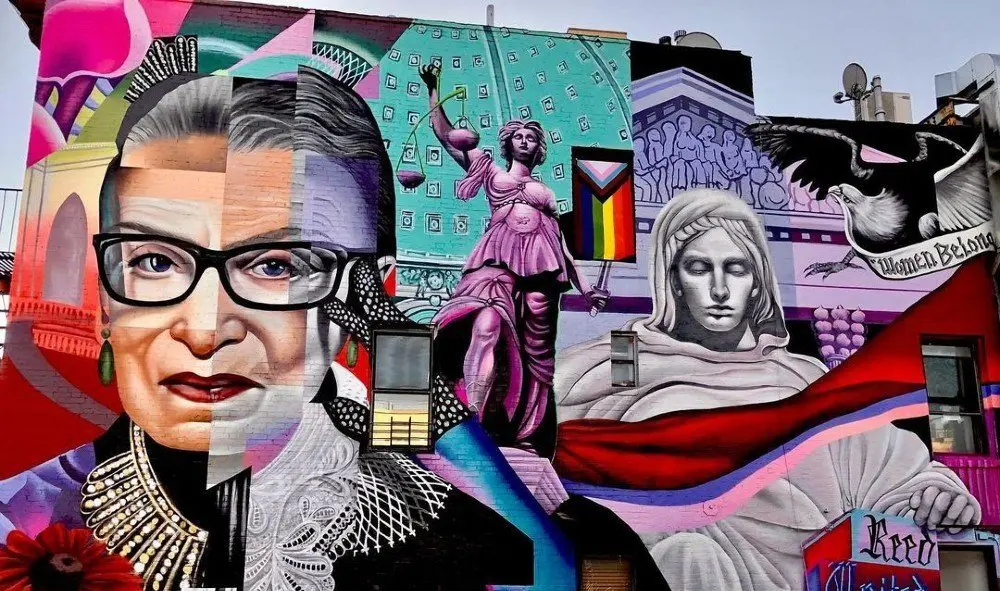 To commemorate the late Supreme Court judge, an RGB mural was added to the LES this past year. The mural paints the judge with her iconic collar, decorated with Black Eyed Susans to represent justice and the Brooklyn Bridge to pay homage to her home borough.
Located: 11 St & 1st Ave, New York
6. Coney Art Walls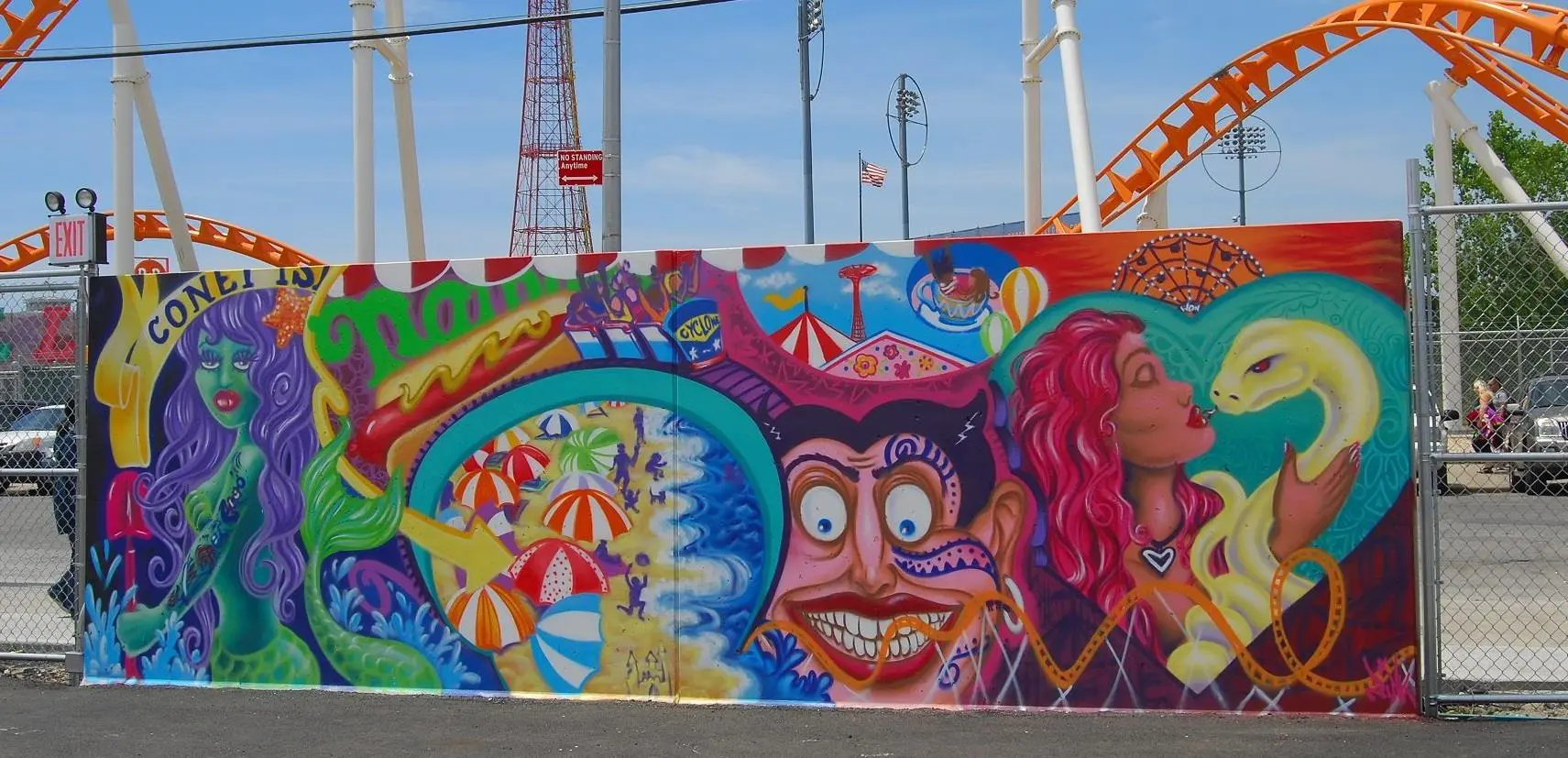 If you're not eating a Nathan's Hot Dog or puking after a ride at Coney Island, you're checking out the famous art wall. Organized by Thor Equities, the wall spotlights altering artists. For example the art wall has featured Jessica Diamond, Tats Cru, Sam Vernon, and many more.
Located: 3050 Stillwell Ave, Brooklyn
7. First Street Green Cultural Park
This park, located in the LES, was dedicated as an open art space. Artists varying in all different styles, both local and international have added their work to the park. Some names include Jeromy Velasco, Robert Plater, and Alexis Deque.
Located: 33 E First St., New York
8. Welling Court Mural Project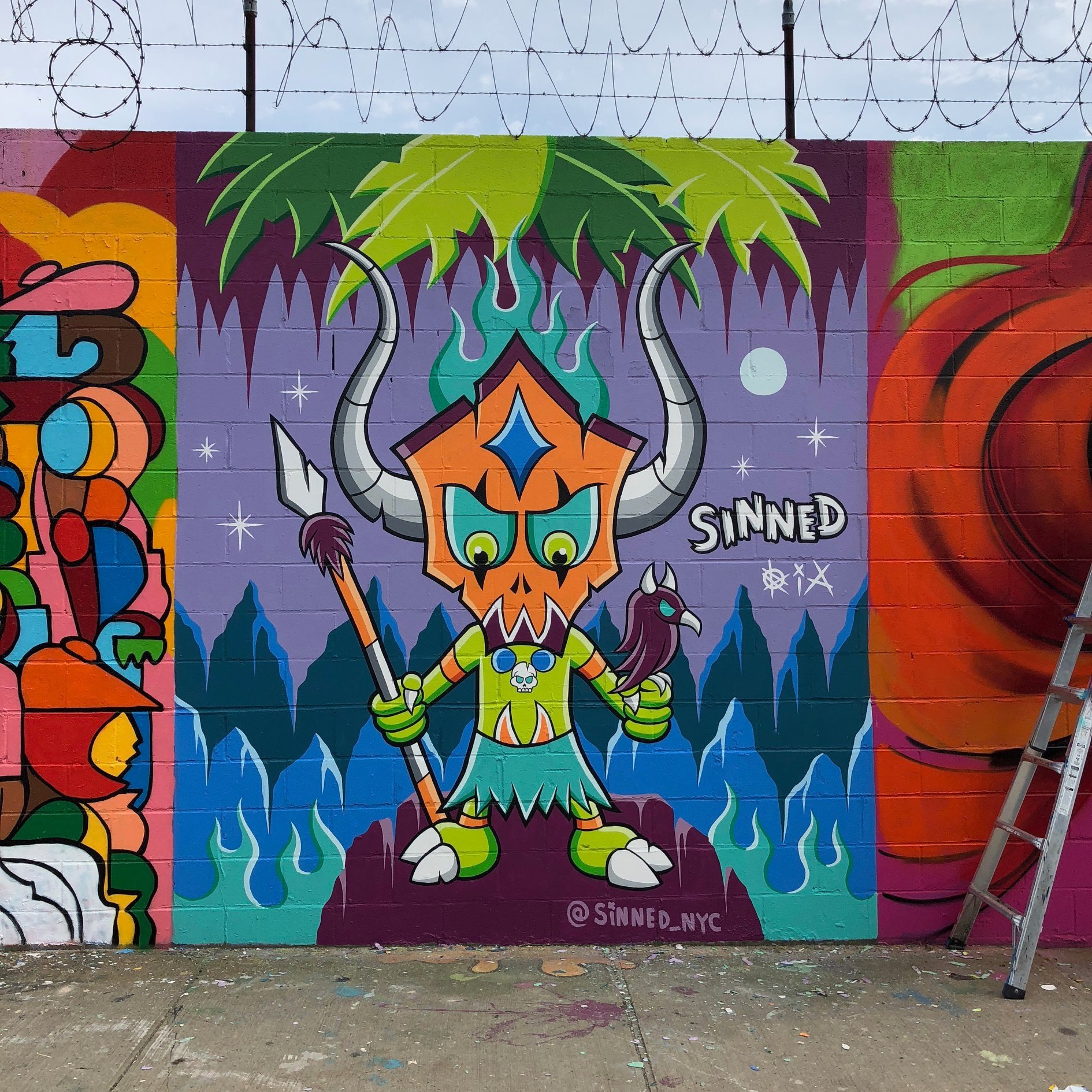 As one of Queen's most beloved public art destinations, the Welling Court Mural Project began in 2009. Since then artists like Kid Lew, WERC, Praxis, and Toofly have done work on the wall. Currently, the wall is showing The Bore of Babylon by Molly Crabapple.
Located: Located: 11-98 Welling Court, Astoria
9. Mother Teresa and Mahatma Gandhi
Eduardo Kobra's work can be spotted all across the city with his signature style consisting of black and white figures embossed under colorful geometric shapes and patterns. In this particular piece the two revolutionary figures are positioned towards each other with hands joined. Even the fire escapes on the facade of the building are painted over in brilliant color.
Located: 18th Street & 10th Avenue, New York
10. The Graffiti Hall of Fame
Taking place at Harlem's Jackie Robinson Education Complex, this wall has been bringing public art to the city for 30 years. The wall was led by Harlem community leader, Ray Rodriguez, as a space for artists to practice spray painting. The schoolyard has been home to works of many acclaimed artists such as Dez, Tats Cru, and Skeme.
Located: 1587 Madison Ave., New York
11. Freeman Alley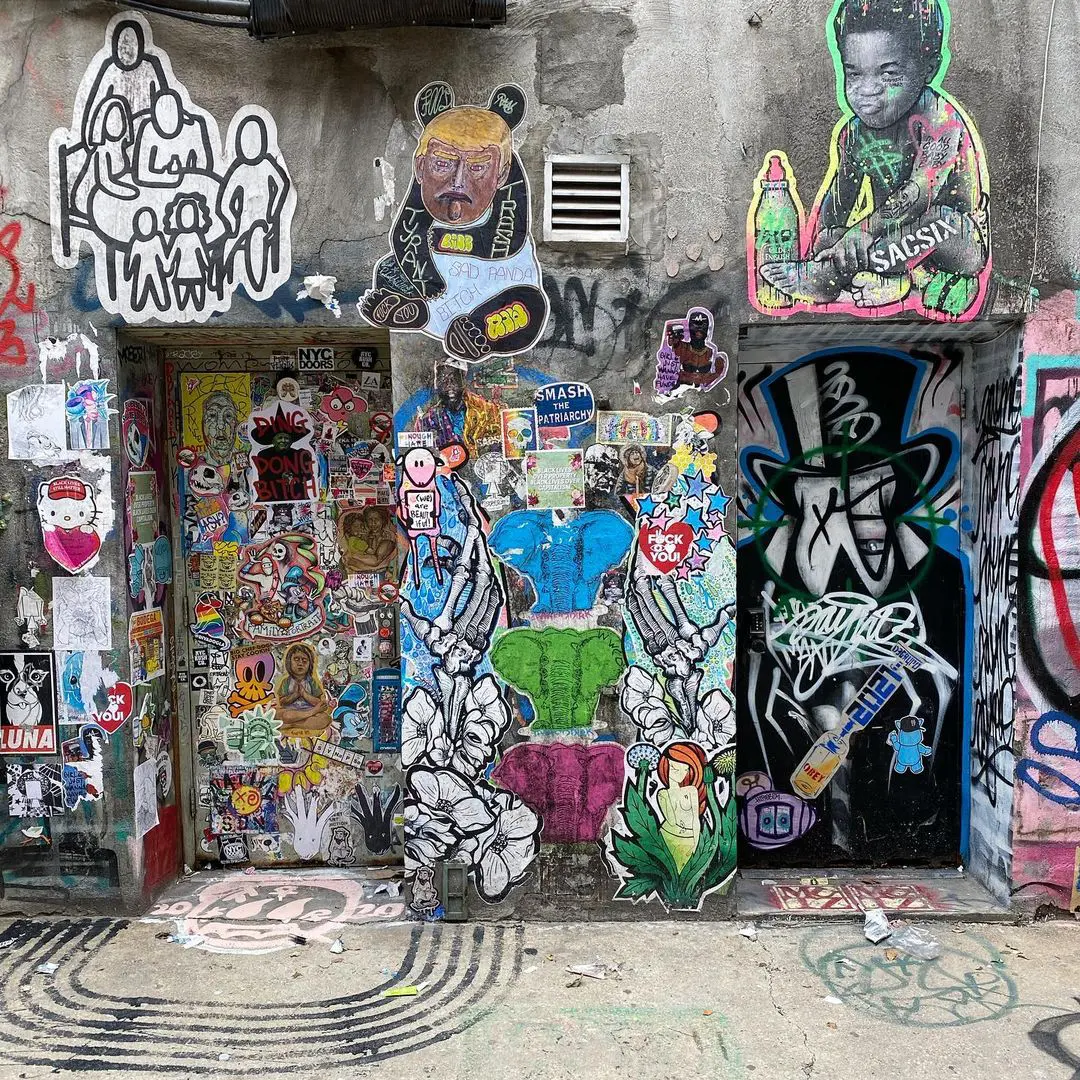 Hidden from the street, Freeman Alley in the LES is one of NYC's best, secret locations for astonishing mural work. When you do locate the tucked away spot you will have much to keep your eyes entertained as the location is full with some amazing pieces.
Located: Freeman Alley, New York
12. Black Lives Matter Mural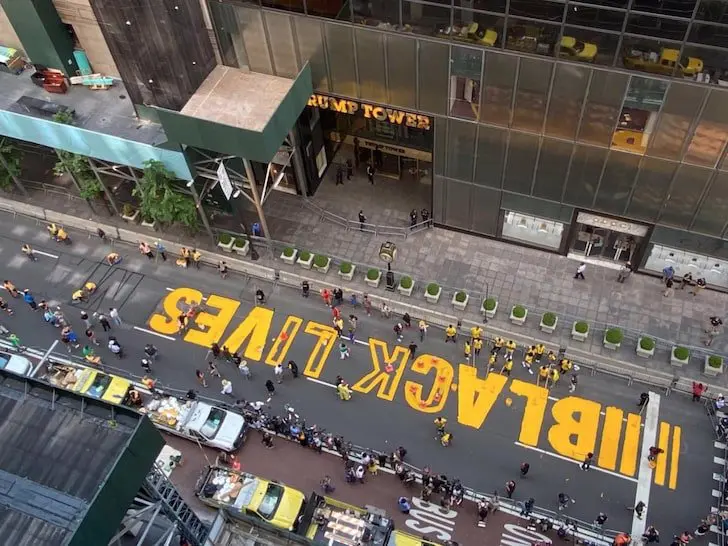 This recent work was completed this summer and in locations all across the city. News was previously covered on the mural painted right outside of the Trump Tower. The work was not only a statement to the thankfully, previous, president, but in response to societal racism that has been around since the beginnings of the United States and shown heavily throughout 2020.
Located: Fulton Street, between Marcy and Tompkins Avenues
13. Westin Wall for ILO New York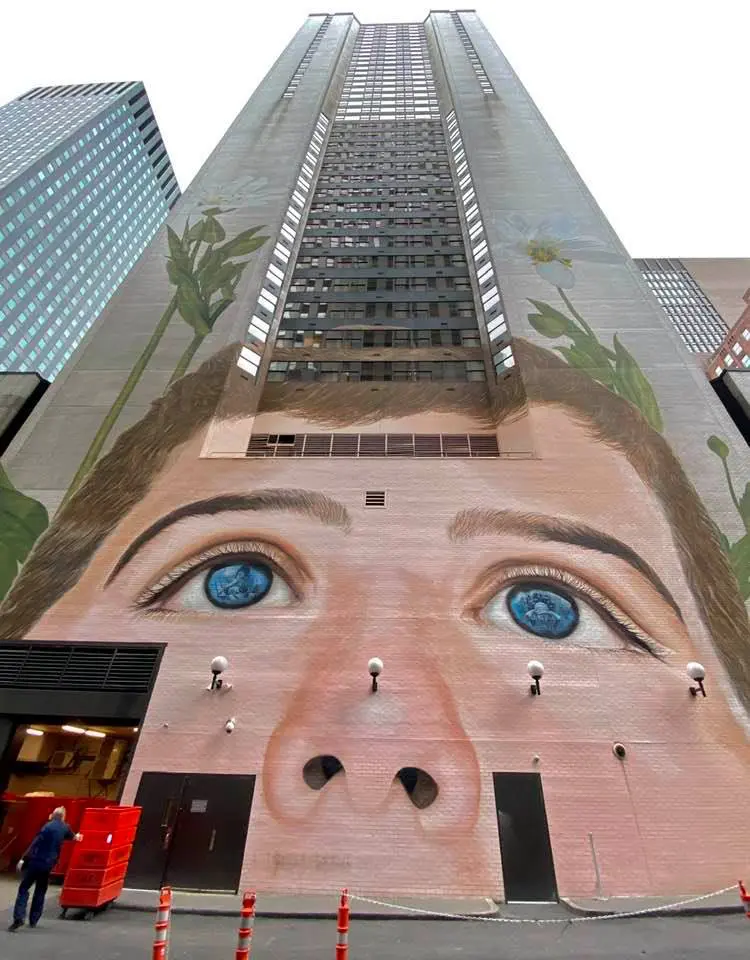 This towering mural on the side of the Westin off of 42nd Street, done by artist Jorge Rodriguez-Gerada, is one of the tallest murals in the city—13 stories high! The mural depicts the face of a boy. Kids are being rescued from child labor camps painted within the boy's pupils. This piece was to support the end of child labor under the Street Art for Mankind initiative.
Location : 212 East 42nd Street, New York
14. Big Ears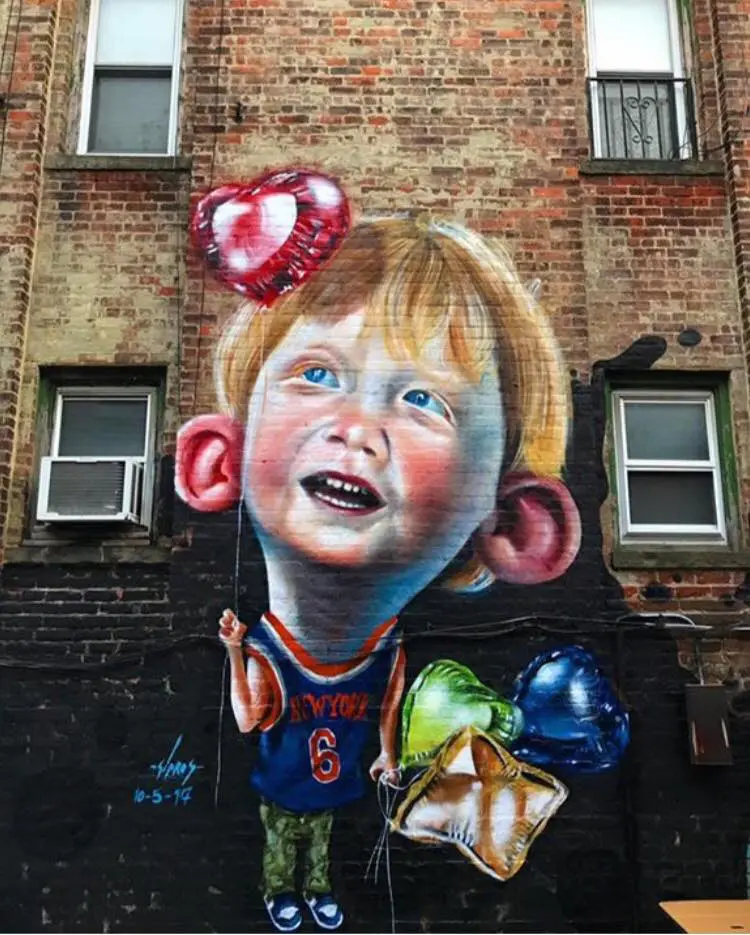 Bushwick has murals at every turn, as the neighborhood is notable for the Bushwick Collective. This makes up a collection of murals all over the neighborhood done by notorious artists all across the globe. Brazilian artist Sipros has been a large contributor to the collective. His style is recognizable by their enormous and playful ears.
Location: 95 Monroe Street, Brooklyn
15. Top to Bottom Mural Project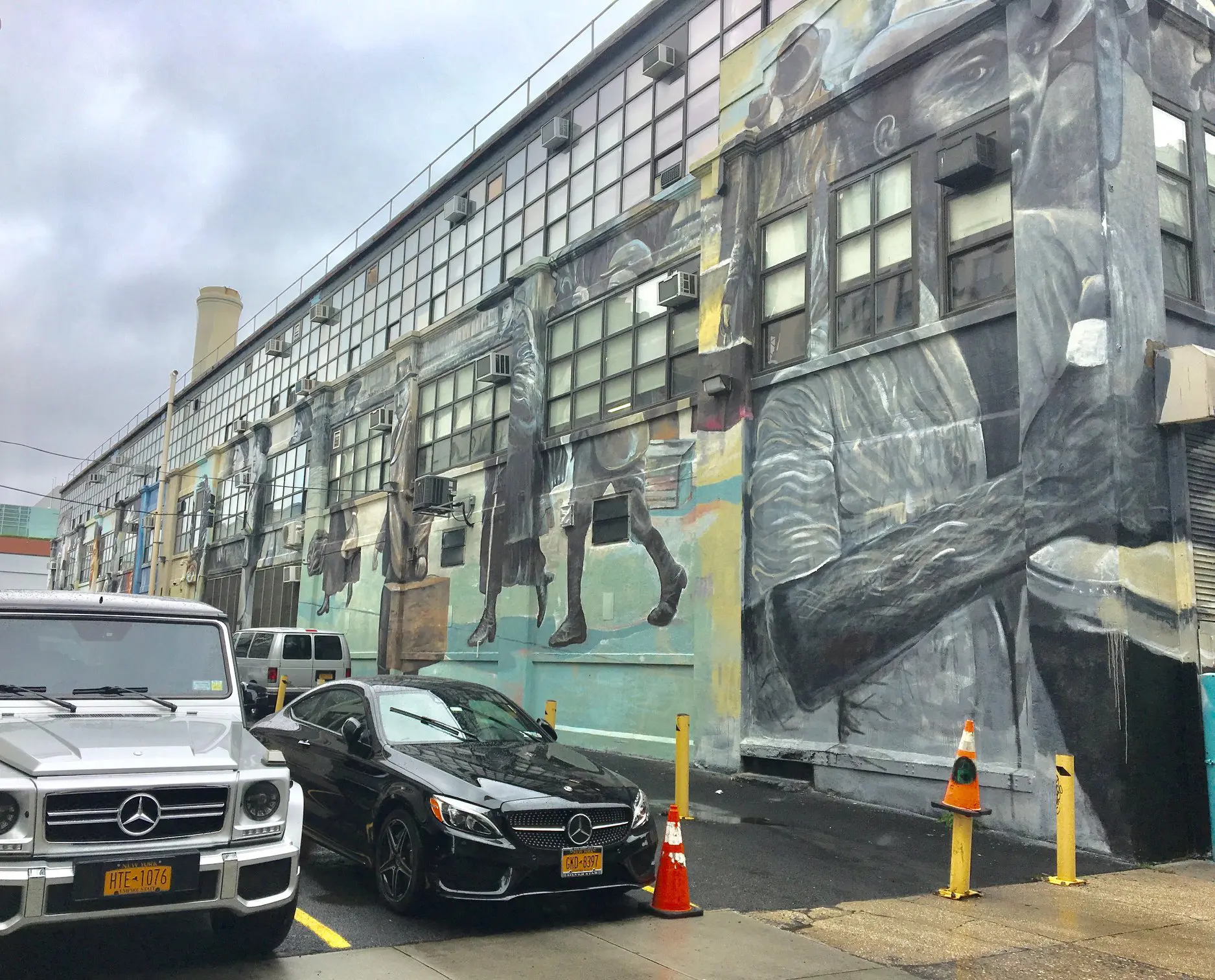 This project in Long Island City began in 2015 when a building owner wanted a new look for his exterior. Worked on by over 60 contributors, his building runs along half-a-city-square block. The project was in collaboration with Arts Org NYC.
Location: 43-01 21st Street, Long Island City
Mural Map:
Featured image from: Facebook/Mary Foster Conklin
Suggested Article to Read Next: 15 Most Photographic Spots in NYC