Who's to say the "starving-artist" stereo-type has to be true? Well not any longer! Make money from your art with these helpful resources.
Whether you're an illustrator, photographer, or any other creator, you can be capitalizing on your art. Though the art world has an unattainable air to acquiring and selling, there are plenty of ways to make your art more accessible to buyers. It doesn't take the difficulty of working your way into a gallery to see profits; it can be as simple as submitting your work to an e-commerce site or joining a creative community. Below we have curated enough resources, both on and offline, to put your art in people's possession and dollars in your pocket.
1. Bigcartel
This site is known for uplifting independent artists and makers to ensure they can live doing what they love. With it's easy-to-use functions, creators can build their own stores and sell their products. Used by illustrators, painters, and over a million more creators, Big Cartel supports artists supporting themselves.
2. Artwork Archive
Artwork Archive is a one stop shop. A space for artists, organizations and collectors, this site gives you all the tools to manage your artwork. All new users can start a 30-day free trial to showcase and track their art. This platform prides themselves on inclusivity by welcoming collections of all sizes and artists at any stages in their career.
https://www.artworkarchive.com/
3. Society6
Founded on the principle of making a free space for artists to display their work, Society6 is a leading website for selling the work of +300,000 independent artists across 160 countries. Whether you're a seasoned creator or new to the scene, Society6 is here to help connect you to customers.
4. Zibbet
Manage your sales over numerous platforms with Zibbet. Start your 14-day free trial and sell your art using Zibbet's multiple sales avenues including A.C. Moore Marketplace, Zibbet Marketplace, Facebook Shop, and more. It takes one listing of a product to reach buyers everywhere.
5. Etsy
Supporting independent sellers, Etsy is the go-to resource for creator e-commerce. It's not only a marketplace for creativity but a community to connect millions of creators and buyers. You can open your Etsy shop with only a $0.20 listing fee and then you're ready for business!
6. Take Part In Your Local Art Fairs
Participating in local art fairs opens the door to an entire network of collectors, curators, and other artists. This environment brings exposure to your work and surrounds you with compatible creators. There is a sense of community when partaking in an art fair that bonds people to your craft and allows for instant feedback. For sites to discover local fairs near you make sure to check out ArtFairCalendar.com, BrooklynFlea.com, and ArtFairInsider.com.
https://www.artfaircalendar.com/art_fair/
https://www.artfairinsiders.com/
7. Absolute Art
Absolut Art is all about accessibility. Apply to be a featured artist on this site that advocates diversity, profit sharing, and equality. With a goal of democratizing art buying, this marketplace encourages bold and creative talent, are you up for the title?
https://www.absolutart.com/us/
8. The Aesthetic Union
Create and collaborate with the team at The Aesthetic Union. Located in San Francisco, this letterpress house can do it all, anything from foil stamping, duplex pasting, to custom packaging. Submit a request and you can get the opportunity to sell with a company that is on the forefront of rejecting class-based access to quality art.
https://theaestheticunion.com/
9. Sonic Editions
Always on the lookout for new photographers, shoot Sonic Editions an email for the opportunity to add your work to the exclusive gallery of high quality photographic prints. This site specializes in the subject matter of musicians, film stars, and cultural icons. If your work gears towards that niche market, Sonic Editions is the resource you've been looking for.
https://www.soniceditions.com/
10. Join Your Local Creative Community
The internet is full of places to connect you with like-minded people. There are groups centered around the collaboration of creators across all different spectrums. One site to explore is RawArtists.com. RAW works to provide artists with the tools, exposure and education to succeed in their career. It links you with other creatives among genres including film, music, fashion, photography, tech, etc. The staff promotes each artist among local and international communities to display each RAW artist and their work.
11. Minted
Are you looking for a challenge? Minted is a unique site that selects their artists through monthly design competitions. Encouraging an artist to consumer interaction, public votes decide which artists are able to sell their work as wall art, stationary, and decor on the website. Independent artists and designers selling work through Minted get the opportunity for instant feedback from the public. Test your talent in a community who believes in the risk takers.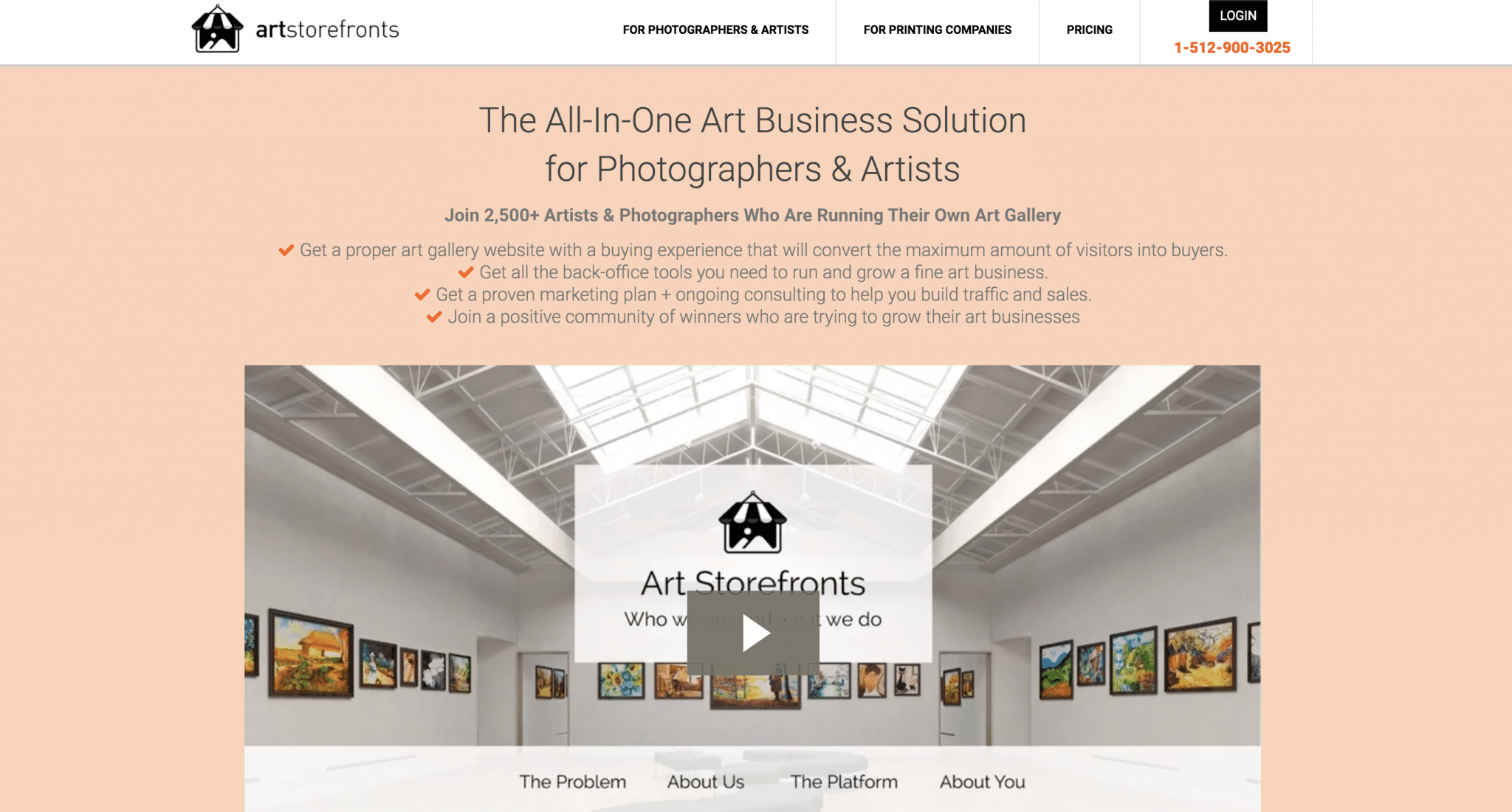 12. Art Storefronts
Art Storefronts is contemporizing the way to sell art. With an inexpensive launch, you can create your own online gallery. With augmented reality, visitors are turned into buyers as they get the opportunity to preview your art in their home. Art Storefronts even provides continuous consultations and marketing plans to help nurture your business. All it takes is a click of a button to request a demo.