Although we're in 2021, some things haven't changed; traveling restrictions being one of them. It seems as though if you want to take a trip somewhere, you'd need to have all your ducks in a row—no, seriously. Or just stay your ass at home, which is something your mayor would have recommended anyway. But, no, seriously! Nowadays, regardless if it means a short flight from Boston to New York City, traveling out-of-state could put you at risk of contracting COVID-19. And could you see yourself honestly lying in bed, severely sick, whether it's mild or severe? Uh… I don't think so. With that being said, here are 10 ways to take a socially distanced-trip!
But first: in the midst of planning, make sure to follow these seven rules recommended by Afar:
Do your research ahead of time. Is COVID-19 spreading in your community? Is it spreading in the places you'll be visiting? If the answer is yes, now might not be the best time to go. If the answer is no, if ever there was a time to overplan, this is it. Plot your route and book lodging and restaurant reservations in advance as best you can.
Protect the public. When you go, practice social-distancing measures and wear masks around strangers, indoors in public places, and outdoors in crowds or where social distancing isn't possible.
Get tested. Depending on the type of overnight trip you're taking and if you'll come into close contact with other people outside your bubble, consider getting a COVID-19 test before you go and when you return home.
Prepare for the unexpected—and pack for it, too. Bring extra masks, hand sanitizer, and wipes. It's better to be overprepared than underprepared.
Support local businesses every step of the way. Note: Many prefer payment with credit or debit cards right now, to avoid handling cash.
Be patient and tip well. Have respect and empathy for hospitality professionals trying to offer you a memorable experience in these difficult times. You owe it to them to do your best to keep them safe. For example, if a restaurant server is taking care of you while you are eating and unmasked, make sure you don't talk directly at the server. (It's awkward, we know, but err on the side of caution as much as possible.
Follow the rules of the communities you visit. Check for any local or regional updates while you're on the road and once you return home: Tourism boards and municipalities are constantly updating their information online.
I guess if you've made it this far, then you're in need of a trip out of your respected state. First things first, did you consider renting out an RV? I know it sounds silly, especially as one of the first ways to take a socially-distanced trip, but trust me, it shouldn't be. From April to June, "RV rentals increased a staggering 1,000," reported by Michelle Baran. If that's not convincing enough, I don't know what is. And as for parking, I'd recommend checking into an Airstream. From there, you'll have access to vegan restaurants and cool little shops. Oh, and did I mention one of the Airstreams is located in California, so choose your core group of friends (or loved ones) wisely!
As for my European lovers, don't worry! I got you covered! Here are 4 U.S alternative destinations, given most countries around the world are not allowing foreigners into their country:
VIRGINIA WINE COUNTRY
If you love: Off-the-radar Italian villages and rustic vineyards
Where to stay: The Goodstone Inn & Restaurant
Before you go: Note that masks must be worn inside public places. – Afar
CAPE COD, MASSACHUSETTS
If you love: The artsy and craft-centric coastal region of Cornwall, England
Where to stay: Chatham Bars Inn
Before you go: You'll need a negative COVID-19 test result within 72 hours of arriving. – Afar
SONOMA COUNTY, CALIFORNIA
If you love: The lavender fields and rolling vineyards of Provence, France
Where to stay: Farmhouse Inn
Before you go: Pledge to "travel kindly" in Sonoma and beyond. -Afar
ASPEN, COLORADO
If you love: Fresh mountain air and hiking in the Swiss Alps
Where to stay: The Little Nell
Before you go: Read and follow the five steps to care for Coloradans. – Afar
Ok, these next set of destinations are my favorite. Also, keep in mind that these destinations are divided by geographic region: Northeast, West, and Southeast.
If you're like me, and you love a good "camping" trip (without the insects), you'd love this cabin located in the Northwest; Urban Cowboy makes it look easy, combining luxury and serenity all in one. What's even better is that the view is majestic and to die for, and hey, you could even snap some great Instagram pictures. But wait, everything would depend on that one friend who'd rather spend their time being your personal photographer for several hours…. without pay.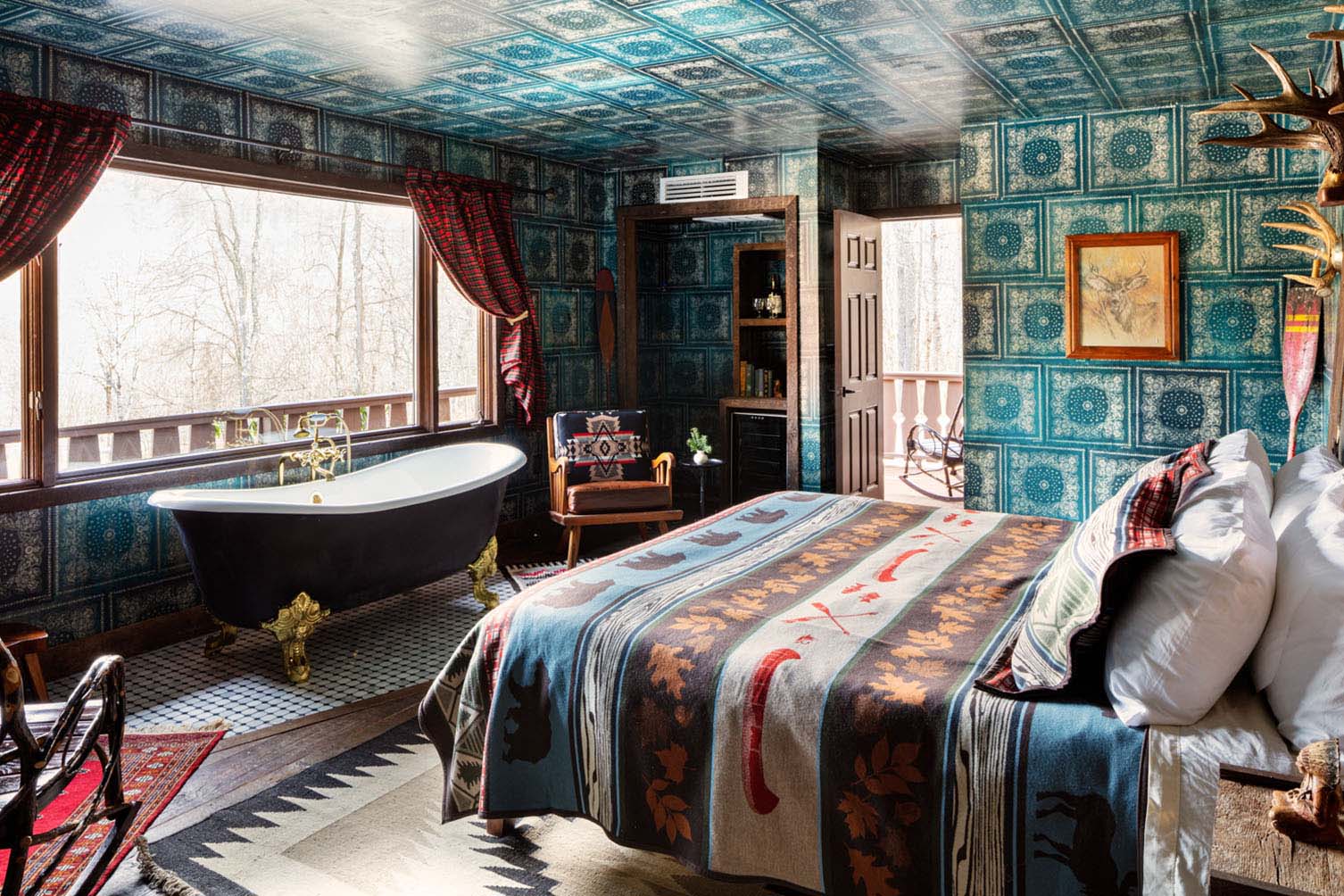 In the West, book yourself a room at The Resort at Paws Up. Sitting on a 37,000-acre ranch in Greenough, Montana, "with 100 miles of trails and 10 miles of Blackfoot River; the 1.5-million-acre Bob Marshall Wilderness Area is also nearby," said Michelle Baran, Paws Up is definitely for those that prefer privacy over anything else.
In the Southeast, with the combination of luxury and camping life, try to find the time to plan a trip with your loved one and book a stay in the Blue Ridge Mountain Cabins, which runs from Maine all the way to Alabama. Want to lodge in a hot tube while watching a movie? Then what are you doing? Consider Canopy Blue Tree House as an option.
Even though I'm a swimmer (update: I haven't been in the pool in months), I'm not too fond of sleeping by the water. But hey, who am I to judge? Here are some places to consider based on lakeside and seaside.
On the shore of Suttle Lake in the Deschutes National Forest near Sisters, Oregon, the Suttle Lodge and Boathouse is dedicated to people who want to experience some lake action. Nothing more. And nothing less.
What was once Robert's Calder mansion but now a 14-room hotel, Life House gives you enough privacy to the point that you'd want to live there for the rest of your life. Oh, unfortunately, this sweet pot is further out from Nantucket. But again, if you follow the first seven rules provided above, I see nothing wrong with getting there safely.
Finally, as always, wear a mask and social distance as much as possible! You have 10 options right here, so there shouldn't be any excuses.
Suggested Article to Read Next: The Newest Creative Community Enters a Cyber-Punk Reality Called Allships